We've had a wonderful weekend! It's been hot and sunny and feeling just like summer! The boys played in the pool, sprinkler and slip n' slide and Dave and I trimmed the hedges, mowed the lawn and planted the last square of the square foot garden with some big healthy vegetable plants.
Brennan was so inspired by the fun he had Saturday and Sunday that today he wanted to make a quilt to celebrate it! (I so love that kid!!) Together we came up with a project so great, I thought I'd share it….
Supplies Needed:
6 – 5″ squares white fabric
6 – 5″ squares colored/print fabric
Fat quarter backing fabric (make sure its a nice solid to almost solid so that when the light shines through, your pictures will still look nice)
A stick or dowel about 20″ tall or so
Fabric Markers (or sharpies would probably work)
What to Do:
1. Color the white squares with the fabric markers. Be sure to do this on a piece of paper to protect your table from bleed-through. Brennan liked to tape his squares to the table with painters tape.
2. Arrange the patches in a checkerboard arrangement, 4 across and 3 down, and sew together. Press the rows to the colored/patterned cottons, then press the long row seams open.
3. Layer the patchwork onto your backing right sides together with the patchwork face down on top.
4. Create a pole sleeve either with the extra fat quarter backing fabric or another scrap. Make sure it is wide enough to go around your pole plus at least 3/4″. 3-4″ wide is about right by 17″ long. Fold over each short end until the piece measures 13.5″, then fold it in half lengthwise with the wrong sides together.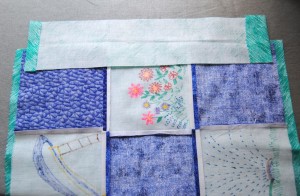 5. Tuck the pole sleeve between one short side patchwork and backing. Make sure it is centered, raw edges all aligned and more than 1/4″ from each long side.

6. Sew around the outside edges with a quarter inch seam. Leave a 4″ opening on any side except the sleeve side. Trim the extra backing and clip the corners close to the stitching.
7. Turn the flag inside out. Press. Topstitch close to the edges to sew the opening closed (if your recipient is patient enough for that step!)
8. Insert the pole, tucking into the fold at the top end so the pole doesn't poke through.
Enjoy your summer flag!!