Hi!! Did you think I stopped blogging? Well, I sort of did, but I think I'm back…for the time being anyway! I was quilting less over the summer, and what I was working on, I didn't think I had anything to say about. But here goes…
The Modern Quilt Guild Challenges just keep coming…and I'm glad they do!!! I love that they give me a great starting point to get my creativity flowing!
The most recent challenge that ended July 25, was to use a cute assortment of Michael Miller fabrics…Petal Pinwheels and Tile Pile, etc. Here's what the selection looked like. (photo courtesy of Modern Quilt Relish)

My finished challenge piece is actually pretty big! I started with a pattern in American Patchwork & Quilting by Mabeth Oxenreider called Ta-Dot!  It was a pretty great pattern to start with, those big circles were strip pieced and even had wavy piecing, which was a fun, modern technique I wanted to incorporate. But the layout of the quilt was pretty traditional, so I "moderned" it up a bit…
– By removing some of the big circles to create some negative space
– By removing the thin inner border to make the blocks float right into the negative space
– I squared up the small appliqués at the intersections (to contrast all the circles)
– I quilted it in a modern way…the repeated wavy lines flow in diagonals away from an off-center center and totally ignore the block lines
– There are some "ghosted" blocks, added in with the quilting, and I sprinkled in a few lines of pebbles in amongst the waves
– Lastly, I loved that Petal Pinwheel motif, so I didn't cut up the flowers, but put them front and center in the three middle blocks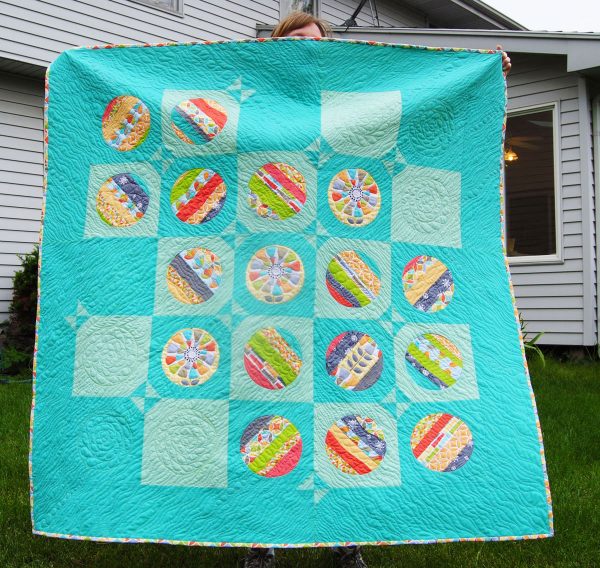 The middle fabric in this close-up was my favorite, multi-colored 'Tile Pile', so I bought more and used that for the binding. It worked perfectly to tie all the colors together!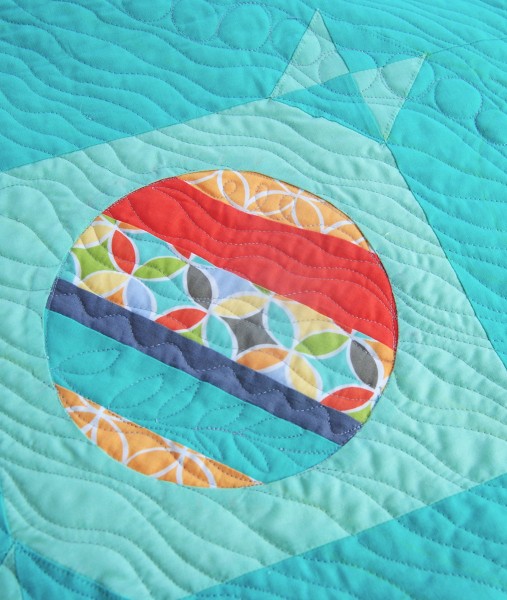 Bummer, you can still see some of my chalk!! I cut this one very, very close to the deadline! I was still quilting the morning of the deadline, also working and packing for a trip to Minnesota on the same day! Photographing it was difficult and the day was very hectic!! But I'm still glad I had the motivation of the challenge to get the quilt done!  I will tidy it up now that I have more time and have it ready to hang in the Des Moines Area Quilters Guild Show in October!
I see the winners of the national challenge have been posted! They are pretty great!! The Modern Quilt Guild blog said they had over 750 entries, whew!  They were really fun to look through, if you're a member of the guild, I hope you browsed the forum and saw lots of them. I had a really good time looking at them, while I was making mine, and dreaming of the year's worth of free fabric. But Brennan thoughtfully pointed out that it was a little nuts to be using fabric to win more fabric!! (He doesn't understand how quilters think, AT ALL!!)
Happy to be back to the blog. Talk to you again soon!
-Emma