Have you taken any Craftsy classes yet? I just wanted to tell you about Angela Walters' Quilting Negative Space class, because I LOOOOOVE it! She has great advice about sketching and practicing AND she is mezmerizing to watch quilting AND her designs are so fun and simple to do, but look stunning on a quilt! I know you've seen these designs before… they are not all new and only her designs, but the way she puts them all together and fits them into spaces is just amazing!
Since watching the show I had two quilt tops ready or almost ready to quilt, so I used them as practice to use what I learned in class.
Here are some of the highlights…
Pebble quilting (in different sizes)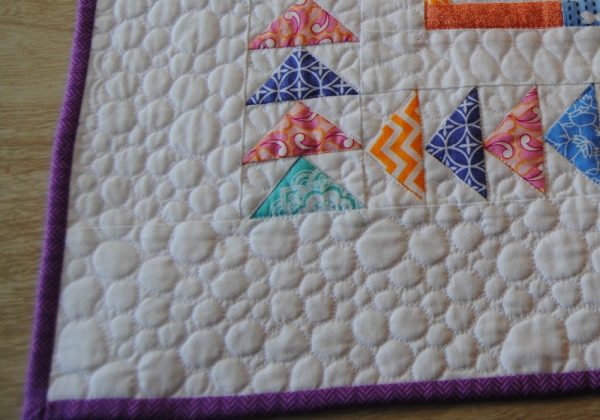 Stacked paisely loops around the star AND a figure 8 or "ribbon candy" small border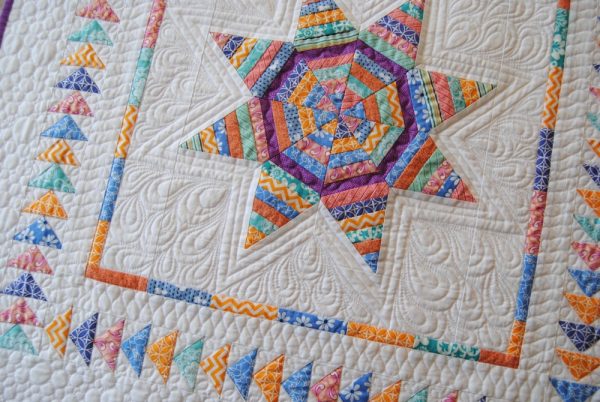 Flower power (this is one I've been doing for a while now)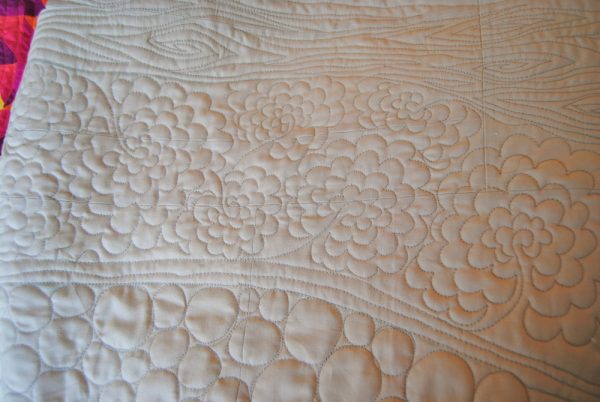 Then on the bottom of that, I did bigger pebbles. See the double rolling lines in the middle? That's difficult to get smooth, but a nice break from one texture to the next.

I thought the bigger pebbles were more difficult to quilt than small ones, but definitely took less time than tiny ones and fit the scale of the rest of this piece better.
Wood grain quilting. I've practiced this a few times now and I'm getting better at it. It is definitely one of my favorites for ease of getting in the flow.
Now do you want to see the finished pieces?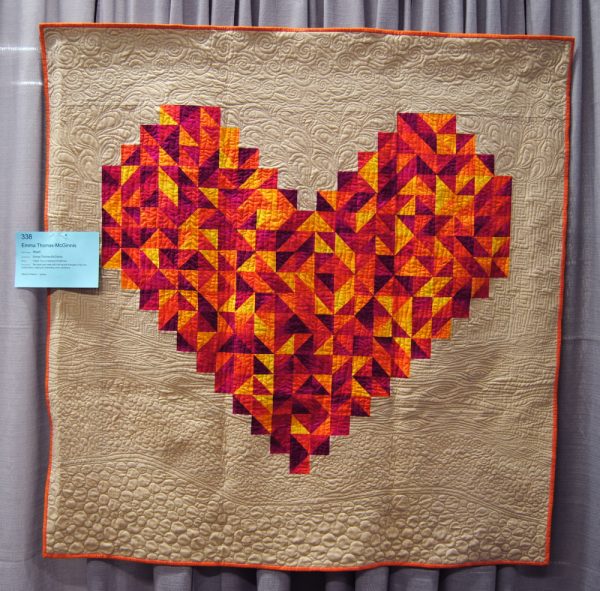 Heart, from the pattern "I Heart You" by Vanessa Christensen of V & Co. Hung in the DMAQG quilt show (non-judged, very wrinkly entry – I swear it was pressed when I put it in the pillow case!) I think it looks a little pathetic in this photo, but believe me, it's very pretty in person. I am very please with how it turned out! By the way, do you know if there are batting choices that will keep your quilts looking less wrinkly? I am really sick of the cotton batting holding those wrinkles so stubbornly!! I'm thinking I might even give polyester (gasp) a try if it would have a little bounce back.
And here is the other full quilt:
Sherbet Star, original design. Happily, it won a red ribbon at the Des Moines Area Quilters Guild Show!