My small group (minus one) made a group project together (for the one) again…something we seem to do quite often for a group only a few years old. And this was one of the most fun!!  It was for Jonah, Dawn's baby boy. We started it before he was born, but he is here now and wonderful! I got to hold him at the guild meeting last week and it was such a joy!  Anyway, we also knew that Dawn already had plans for the nursery. It is a colorful room based on the monsters quilt I made this winter (and she bought). So we looked for a colorful design for our quilt and found this by Red Pepper Quilts.

It truly made a perfect group project, as we each chose a color or two to do and together we made a rainbow!! Most of us got to work in our favorite color palettes, so we had a lot of scraps to choose from. (Lisa did green, Tricia did purple, Teresa did blue and one red, Veronica did turquoise and one red and I had orange and yellow)  I had to ask my friends for a little extra orange, because while I love the color, I just didn't have that much of it in my stash. We made the blocks on our own and each made a few half square triangles in our colors and then when we got together at the retreat we put it all together. It took a little planning to make the little pinwheels' triangles line up with the blocks they were next to (look closely), but we had a big table and just laid the whole thing out before starting to sew it all together.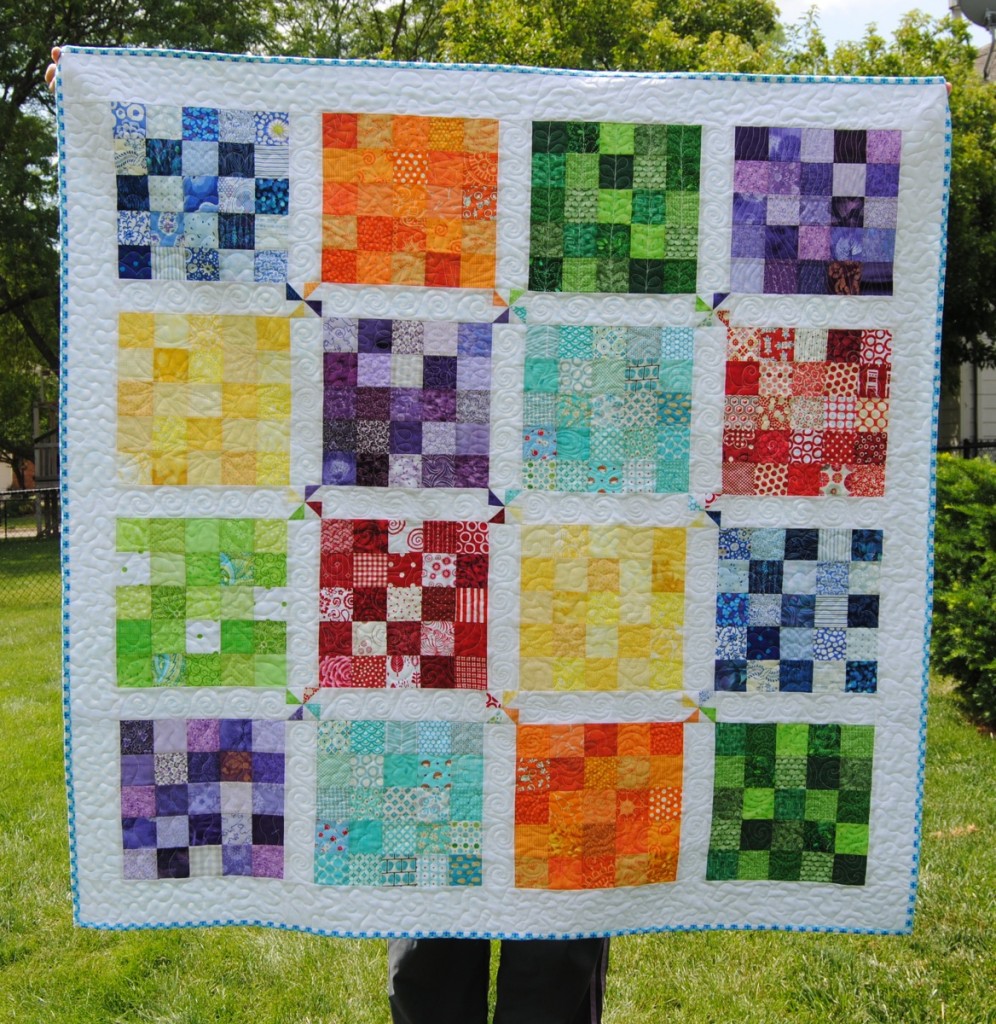 I had the honor of doing the quilting. So I chose to free-motion quilt each colored area in a different freestyle pattern and the sashing is swirls to go with the twirling pinwheel theme. I used some of Leah Day's free-motion patterns and some are just basic made up designs. Below are a few close-ups. (click to see them larger) Also, I realize now that I hadn't posted photos of the monsters quilt before, so the gallery below includes a few photos of that project. I hope Jonah will enjoy both of these quilts! His mommy assures me they are a family that USES and LOVES their quilts, so that makes me very happy!!