You may have already heard the news, but I don't know what has taken me so long to blog about this….I've been published! I have a pattern in the great big Quilting Arts special issue "101 Patchwork Projects." I even brought it to my guild meeting before posting it here. They gave me the warmest, most enthusiastic applause I have ever received at just a show and tell. I think they were proud of me!
Anyway, here's the project that gave me the honor of sharing my craft with the quilting world.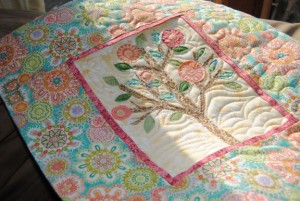 And here it is in a magazine!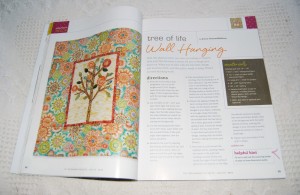 And here is where it says my name, in a magazine!
Oh, I know, maybe someday having something in a magazine will seem just as exciting as my everyday job, I hope anyway…but right now I'm basking in the newness and excitement of it.
I've made three of those "Tree of Life" wall-hangings since that first, just to make sure I could do it again. I had the magazine open and pretended to be someone else, just following the directions in a book! I had to really concentrate on reading each step before just rolling ahead and doing it, but it was fun that way!
Here's one of the others. (I still have to photograph all of them.)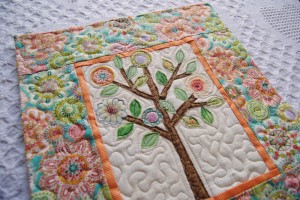 I'm sure I'll be offering them on Etsy, so if you're interested, stay tuned (or convo me on etsy and get the listing up!) BUT better yet, go get the magazine and make your own!! I do hope I get to see what some other quilters do with the pattern. So, if you're going to make it, be sure to show me you finished quilt!
By the way, the project is super-fun! It's made in a fun and easy method that really allows you to play with the design before stitching it all down.
Here's the cover of the magazine and the link for you to purchase your own copy. It's a really great book. I made a pretty big list of projects in it that I want to do someday soon. I'm sure there are a few more blog posts about it to come! Bracelets, slippers, a headband, vases, placemats, a few simple quilts, and lots more.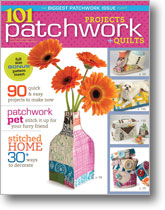 Thank you Interweave and Quilting Arts, for the opportunity to be a part of such a wonderful project. I am so honored!
– Emma