One of my favorite parts of getting together with my small group of quilting friends is our show-and-tell! I love the inspiration from seeing their projects, in progress and finished works of art…but we also enjoy sharing our shopping finds. Someone usually brings their newest fabric purchases for us to oooh and aaah over and we pass around books and point out projects we'd like to make.
This was one of those Tricia brought, where everyone was saying "Emma that looks like something you should make"…they were so right! I had to buy the book for myself shortly after that meeting and started making things shortly after it arrived at my house!
My list of projects to make from this book is almost as long as, well, the table of contents!!
I had fun with one little stash of bright blue and teal prints and a soft natural linen blend fabric. If you don't know "Zakka Style", one trend is the use of cute, modern prints mixed with linen and solids; also, according to the book, with sewing practical things–zakka "embodies a kind of simple charm and uniqueness–something handmade that is useful yet pleasing." Perfecto! I love having AND USING my handmade things all over my house!
Anyway, here's what I made…
First, I desperately needed new potholders! The circles were a little scary when it came to the binding, but actually bias linen is very, very stretchy, so it was no problem at all to just ease it into place. I was glad that I decided to hand sew on the back or it might have been more trouble! They are even cuter when you know that I have blue kitchen cupboards! The design is brilliant too, because they really help you avoid getting burned fingertips by slipping your hand inside the pockets on the back.
Also for my kitchen, I made some mini quilt magnets. I am familiar with making quilts that small, from my quilties keychains…but I really liked author Nova Flitter's idea of the hand quilting touches. I think it adds a lot! I used old magnets I had on the fridge already, doubled-up as suggested in the book, but they really don't work well. Unfortunately I'll probably have to open them back up again and put in super-strong button-type magnets, because their sliding down the fridge is pretty annoying!
But they are cute as a button. Size: approx. 1.5″ square.
Ok, this project isn't from the book, but I came across it while thinking about Zakka style, and I made it the same week as these other things! I was on a roll! Isn't this a fun "List Taker"? I really like having such a pretty grocery list to walk around with at the store AND it has a nice little pocket for my pen and coupons…really love it. Instructions were on a pdf here at Lark. I think it's from a book by Lark. (Go on, your purse needs one!)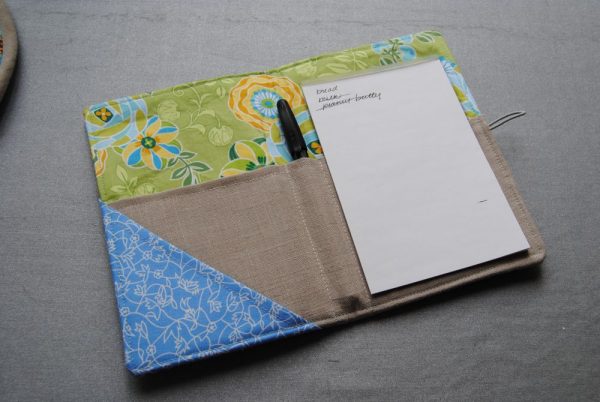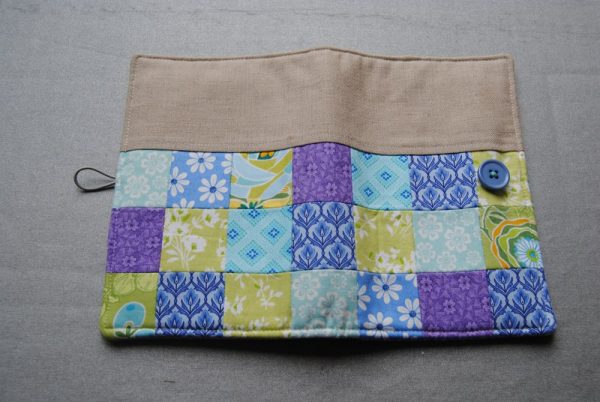 So that's my little Zakka Style Collection…what do you think?  I think I can't wait to get to the next project from that book!