I've been working on two fun projects the last few days. One is an old UFO, I think the oldest one I have, a "Double Irish Chain." I want to show you some in progress shots, because I think it will be quite a while before I finish either of these two projects.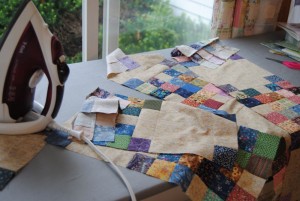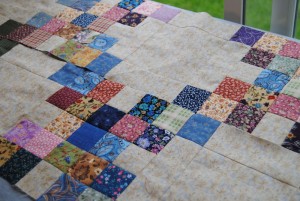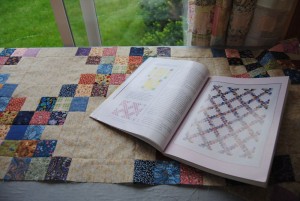 The second project is yo yos! I've been making them whenever I sit outside watching the boys play in the pool, or ride bikes in the cul de sac, at my garage sale, and even a little bit of tv watching. One of the most recent issues of American Patchwork & Quilting has a great pattern I plan to make, where yo yos are appliqued to strips of solid fabric to make a full yo yo quilt. And it looks so cute and like so much fun!I don't have a background color chosen yet. (The sample is a snappy turquoise, which I might try!) But I'm already up to 110+ yo yos, well on my way to the 409 I will need!
Here's a peek…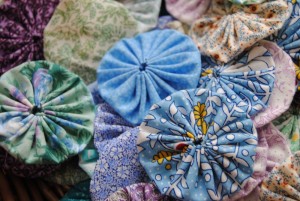 Both of these projects use fabrics that have been in my stash forever, just a little neglected even, the cute and flowery calicoes. They're a little old fashion and some of them even really clash when they get side-by-side, but I love the scrappy look they have when they get together!