I recently finished a long-time UFO! Yippee!  I received a pre-printed sashiko panel and supplies from my good friend Teresa for my birthday not long after I met her. It was a pleasant and unexpected surprise and I was grateful for it. I worked on the panel for a while, getting about half-way through the stitching when I set it aside in a UFO basket not to be touched again for a few years. Sad!!
Well, it is feeling the love again. I thought of Teresa because she recently moved to Florida and was missing her so badly that I dug out this project and finished it in a couple of satisfying evenings of hand-stitching. I made it into a pillow cover so that I can enjoy it on my couch every day. It fits in nicely with our color-scheme and is a perfect size for resting my head or tucking behind my back. Thank you so much Teresa, for the thoughtful gift and the friendship that I will treasure forever!  I hope you come visit Iowa often!
Oh, another cool thing about this project is that when Teresa moved, she had to get rid of a lot of her fabric and I was the lucky recipient of quite a bit of it. I bought some at her garage sale and then was given some at our last meeting with her. I used two of those fabrics to finish the pillow cover! They look perfect for the project and perfectly Teresa!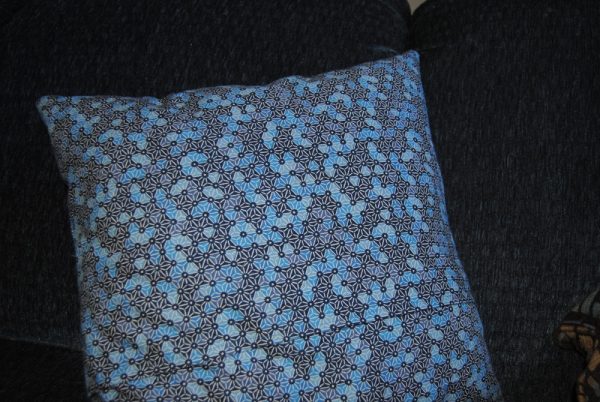 P.S. I finished a Project Quilting challenge this morning at 11:58 a.m. so I'll have that to show you later. Or head on over to PersimonDreams flickr group to see all the entries now….mine is at the very top of the list because I was one of the last ones to finish!