I LOVE making Christmas presents! There is nothing as fun as spending the whole day playing "Santa's Workshop" and making as many presents as I can. I remember my mom trapping herself in the "sewing room" (a very small laundry room off the kitchen) and not letting anyone in while she was playing "Santa's Workshop" so I know I'm not the only one who loves this. I have a very big list to get through and I hope I can do it in time for Christmas. I'll show you a few of my creations as I am able…and I've also found quite a few ideas online to share with you.
The DIY Basic Bag…
The first thing I did was this pretty handbag. I made it from the DIY Dish's "Basic Bag" tutorial. It's super easy and fun, but I think it looks complicated and fancy, not basic at all. Check it out here. It's really neat that you need 2 yards of coordinating fabric, how easy is that for shopping?! Although, you'll see that with mine, I had trouble finding full yards in my stash, so I used a jelly roll to first make a yard of striped fabric, then make the bag.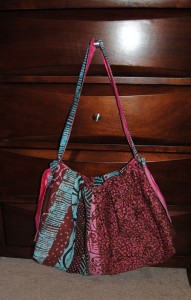 Aren't they pretty fabrics?! The jelly roll was a really nice one I received from Lisa at my quilting small group's Christmas part last year…everyone loved the fabrics so much and passed them around, I knew they would like something made from it! So this was the gift I brought to this year's gift exchange!
The Zippered Pouch…
Another perfect little gift is the zippered pouch. I made a few for my etsy shop and I may be giving away a few for Christmas! They're fun to make and easy to customize for whatever style you think your recipient might like. Make it the right size for a handheld video game, phone or other gadget and it's sure to be a hit!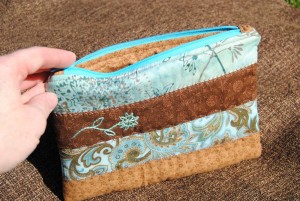 This is the tutorial I used and loved, by "Make It Perfect."