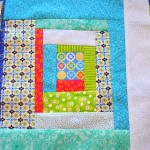 I've been playing in the modern quilter's world…the piecing that isn't perfect, just stick it on, sew across and maybe trim…and it's really, really fun!
From this fabric by Carolyn Gavin called "Spring Street" that had colorful borders…I decided to frame the blocks with a wonky Courthouse Steps.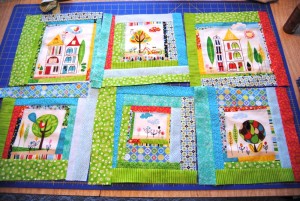 Which is just a fancy way of saying that I sewed a strip to the top and bottom to each block, then a strip to each side, then to the top and bottom, over and over. I tried to make the strips all different sizes and colors in each block, so they are really fun and interesting to look at.
I only had half as many panels as I need to finish the quilt, so I am making plain courthouse steps for every other block…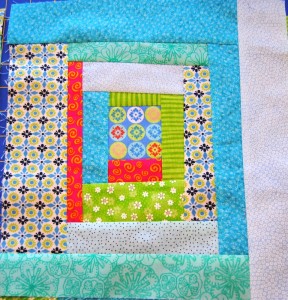 So it will look like this: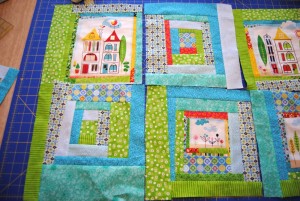 Another fun block is the Wonky Roman Stripe, from "Block Party: The Modern Quilting Bee" (Love this book by the way!!)
Sew strips onto one side of a triangle and then trim into a square.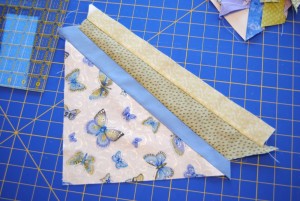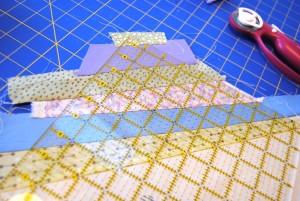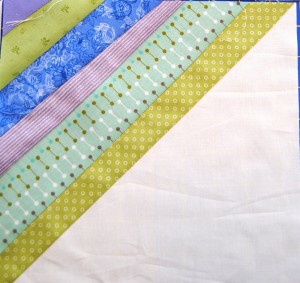 So, I've stayed away from this kind of project for a little longer than necessary, just because I really didn't like the word "W0nky" to describe it, but improvisational, liberated or modern, whatever you want to call it, it really is fun to just get piecing and not need it to be perfectly straight or matched up.
Have you tried it? What blocks have you made "Wonky?"