Today was the Des Moines Area Quilter's Guild December Tea. It's our end of the year celebration where we eat lots of treats, have a big meeting and show off the quilts made for the President's Challenge. I did finish my challenge in the nick of time! This was a very fun project, I'm so happy I got back into tatting for it!!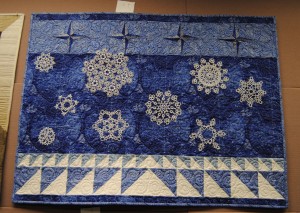 And here are some close ups and in progress photos you might like. Each snowflake is different! But sewing on those snowflakes took almost as long and tatting them!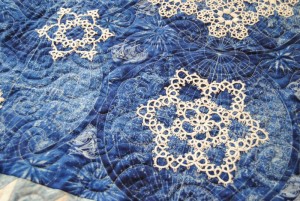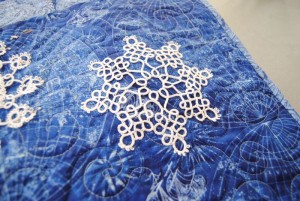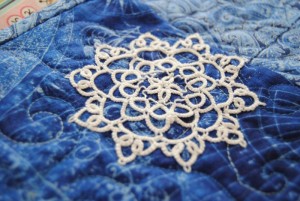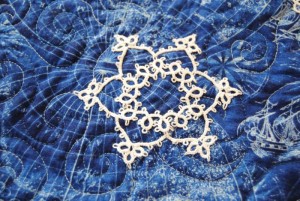 This biggest snowflake is the only one that I didn't tat especially for this quilt. It's from when I was first into tatting and had been sadly sitting in a box for years. I'm glad it is now being appreciated in a good place.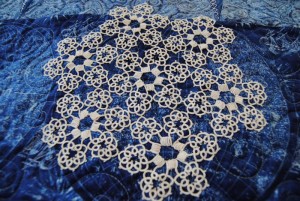 Please click on the full quilt photo or the second one to see larger and notice what a beautiful fabric that background blue is. I wrote a paragraph about this quilt for the challenge entry and explained that the nautical theme of the fabric was very fitting in my mind because sometimes the blustery winds of an Iowa winter make me feel like a ship tossed about at sea. The quilting is done in swirls that could be both waves or wind. The bottom border is symbolic of waves and/or snow drifts.
I designed the paper-pieced top borders to reflect the compass that is seen in that nautical print background. I found great scraps to coordinate with blues and metallic silvers, for a subtle feel, not to detract from the snowflakes, but still feel rich and beautiful. I'm thinking I could provide you with the pattern and instructions for that star, since I designed it, would anyone be interested?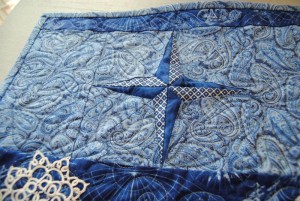 Now, I thought I would show you some of the other entries from the guild's president's challenge. But maybe I'll wait until I know whose is whose and get permission. We vote on them at the tea, because the top 8 are selected to be entered in AQS's National Guild Challenge as a group project. We vote without knowing the makers, then find out later. I think that's a little sad, because I would like to talk with people about their own quilts while we're all standing around looking at them. But oh well! That's how it's always been done.
Keep warm everyone and happy quilting! Off to do some Christmas sewing!