The challenge: "Be My Valentine" using a color scheme other than red or pink as the dominant colors and not using the word "Valentine" on the piece…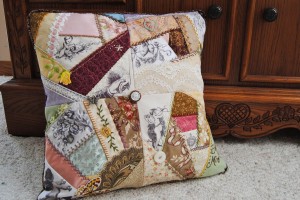 My interpretation is a vintage valentine crazy quilt. I love crazy quilts and the Victorian romantic images of cupids, couples and roses just called me to make something really pretty! My color scheme is mostly neutrals, taupe, cream, brown, tan, with a little rose and pink and some light green and lavender. Of course, for a crazy quilt it had to be somewhat colorful!
I printed the images on white cotton fabric early in the week. Then I made crazy quilt blocks with my little stash of fancy fabrics (which is quickly dwindling now) adding in some pretty floral cottons to fill it out and get the color scheme right. I did the hand embroidery every evening this week and a little on Saturday afternoon, watching TV. I really love sitting down to do handwork, it's so relaxing!
Part of the point of Project Quilting is to push your creative limits, so I learned a new skill for this project: PIPING! A fancy pillow really needed a fancy edge, so I just got out a book about edgings and finishes and there it was. I didn't have the right cord, but a few strands of cotton yarn twisted together worked pretty well. I like the soft rounded corner the piping created too.
Here are some details…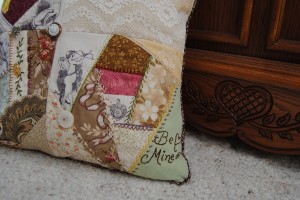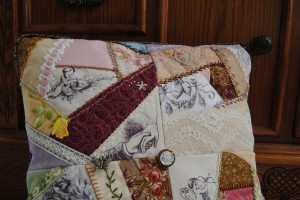 Here's the piping edge.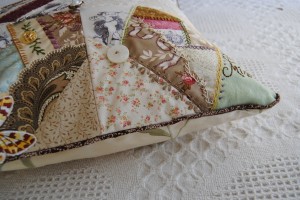 And I have had this square of upholstery fabric set aside for something wonderful, I was excited to get it out of the drawer and find that it was perfect for the back!
Yeah, another project COMPLETED in a week! Project Quilting is an amazing motivation!