I came across a tutorial this morning that was one of those things that I had to go make right that minute….do you know what I mean?? Sometimes I come across ideas I think are clever or look fun to make and I bookmark them for later, or save a pic/pdf in a folder on my computer, and sometimes I get around to digging through those folders and bookmarks…but this one just couldn't wait!
Paper Christmas Tree Ornament by Elsie Marley
Here's what I did with them. I started by fusing fabrics to cardstock, because I can't pass up a chance to use fabrics. I had a lovely selection of green, holiday prints.
Then I started assembling the cute little trees. The first one wasn't that successful, because the tension was off for paper and it didn't seem very sturdy the way the two tiny threads were holding the whole thing together. So then I decided to overlap the strips just a bit.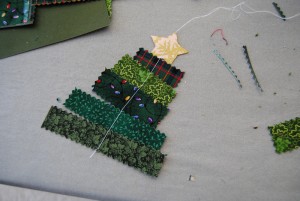 Here are some more successful ones. See the cute one on the left with the overlaps in the right direction like branches of an evergreen! I love them!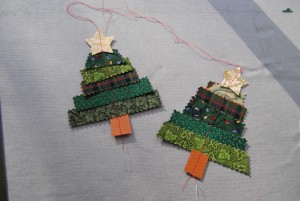 And they were so fun to make, I did several more!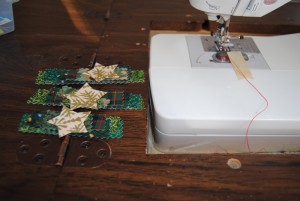 I'm going to write to and from on the backs and use them as gift tags, I think. It was a great hour or so this morning, playing with these little trees anyway! Thanks Elsie!!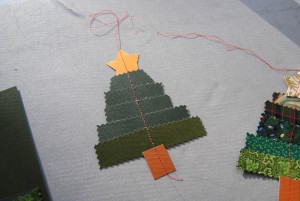 And just for fun, here's a photo of the view while I was making these. Winter has finally made it here!
We went shopping for snowpants and boots this afternoon!! (Boys grow too fast, that's all I have to say!)
Happy Winter!