Looks like I took July off from blogging! I didn't mean too, but I guess it got away from me. Isn't that how summer goes?!
But I've had a fun summer so far. We just got done with Grandma Ginny's second visit of the summer. Here's a photo of her with the boys, in front of a lovely fairy tale quilt she made for Brennan a while back. We didn't get much time to sew together this visit, but we did have a good time.
On my sewing table right now is a small group/guild project, a quilt for a veteran. Here is a not very flattering photo of the work in progress. Each of my small group members made a set of blocks, now I am sewing those into the rows and adding borders.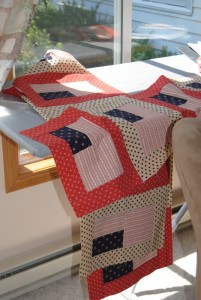 I'm also making yo yos in any spare moments I'm sitting down with my hands free…so here's a basket with my progress. I'm half done with the count I need for my yo yo quilt!!  I saw a blogger with a  yo yo sew-along that I considered joining, but hers calls for more than 1,000 yo yos!! I'm thinking 409 is plenty for me for one project. I'm already itching to get stitching them unto a background. But then I have to decide which color the background will be and buy the yardage! I'm a little afraid of making that decision!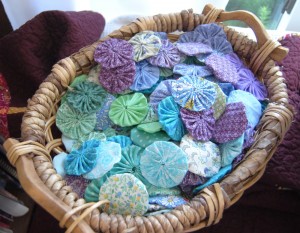 Now for the project I previewed in my last post…the Violet Sashiko Round Quilt. I need a good name for it still, obviously. But I designed this fun little circle quilt for my small group's "Solids Challenge" to use solid fabrics in a project. I broke the rules with the binding…but I think you'll agree, it was worth it. The binding has a purple and white dotty design that shows off the sashiko stitches fabulously!

I really wish I had a cute little round table to put this on!
The flowers are the Folded Rose from Rebecca Wat's Book "Fantastic Fabric Folding."
Well, that's all I have to show you for now, have a great summer Sunday!