Halloween is on its way!! Here is my favorite pumpkin photo of all time.
So, of course, I've been working on a costume! Actually, I was put on a very tight deadline this year to have it done by yesterday, because Conal needed his costume for school project first. It just happens to work for Halloween as well. Thank goodness, too, because I splurged on both supplies and effort to make this the coolest Magyk robe I could make! The costume is for a character called the Apprentice from the book Magyk. It's made of a green stretched crushed velvet and lined with satin. The fabrics were difficult to work with to say the least, but well worth the effort when you see how it flows and swishes and catches the light magically!!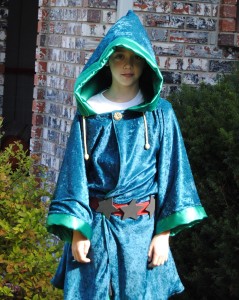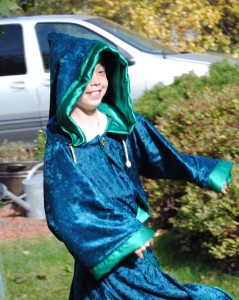 These next two photos, I have to share because my boys are just so funny. Conal didn't want to have his picture taken, he was a bear about it and wouldn't let me straighten the robes or pose him at all. But Brennan wanted to be in all of the pictures! Here's what happened….
And here's how he reacted when he couldn't be in the picture!
I only get to make one costume this year. Brennan really hasn't considered being anything else but Mario, with his costume from last year. He loves that costume so much he's been wearing it all year for play! It's so nice when your work is that appreciated!