Welcome to my post for Des Moines' Frugal Blog Tour. I hope you have been enjoying all the blogs on the tour this week and last. There are links for the other stops on the tour here: Des Moines Frugal Family Examiner by Julia McGuire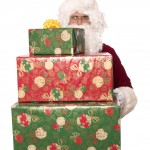 My topic is Reusable Gift Wrapping. When you were shopping for Christmas gifts, did you happen to throw a few rolls of gift wrap into your cart?  Or do you have a stock pile of it stored away somewhere?  You may not think that extra few dollars is that big of a deal, but if you want to think frugal, remember that all that PAPER is just going to be thrown away a few minutes after the gift is opened. What a waste!!!  Now this is a tough challenge for someone who really has always loved wrapping presents (and wrapping paper is really pretty, wonderful stuff!), but I have challenged myself to reduce the waste this holiday season, and I hope you will try to too.
Some ways to reduce the waste…
1. Use part of the gift as the wrapping.
You know, those beautiful gift baskets of fruit or coffee you see in the store. Put together your own gift basket, skip the cellophane and your gift recipient won't mind seeing the present before it's opened, if the presentation is beautiful! Think about food treats in a basket or on a pretty platter, cooking gadgets packaged in a mixing bowl, an apron and potholders wrapped up in a tablecloth, you get the idea!
Especially for my quilter-friends, if you're giving a gift to a fellow fabric lover, go ahead and wrap their gift in fabric! They'll love you for it! Tie a ribbon with a little ric rac, bias binding or even a flexible tape measure!
2. Use a tote bag or purse as wrapping.
Have you noticed the cute reusable shopping bags that stores are selling these days. Target has them, craft stores & grocery stores have them, Toys R Us even had some fun ones. Look for a good pattern and strong, non-see through one, stuff it and tie it closed with a ribbon. It'll look just as nice as a paper gift bag, but your recipient will have another extra little gift from you too, the tote bag. And what about a purse? Do you want to give a gift card, toiletries or even jewelry? Package it up in a purse and that's a really nice extra gift. It will look more like a wrapped gift if you add a ribbon and a gift tag.
3. Make your own tote or gift bag.
I really enjoy making reusable shopping bags with recycled sheets or fabric that I don't need anymore. You can go to Morsbags.com for an easy tutorial or I like this tutorial for a folding "Green Grocery Bag." Put your gift inside, then wrap it up in ribbons.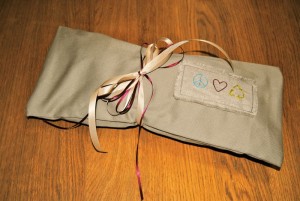 Then if you're sewing, you can make a gift bag just the right size for your gift. Big craft stores have great sales on holiday fabrics, so it's almost as inexpensive as gift wrapping paper…but this way it can be reused. If you give these bags to your own children, you can store them away where you would have stored unused up rolls of paper! (I'm thinking I'll make a tutorial for these little guys later, if you're interested, let me know!)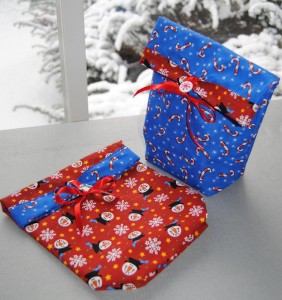 OR if your gift is something such as blocks or other toys with pieces, choose a non-seasonal fabric and your recipient can use the bag as storage. Drawstring bags are great for kids.
Here's a really great tutorial, I haven't tried to make yet, but plan to: Box with drawstring top tutorial by June at Noon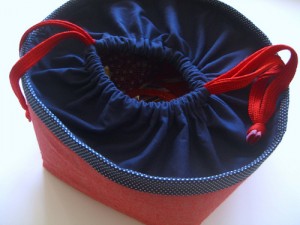 4. Use Recycled Items as the Wrapping.
If you've ever socked away a nice sturdy box thinking it would be good for something, you'll know what I'm talking about. Try using something that would have otherwise became waste. I can remember many a year my family would open a gift and say, "No, I didn't get you Cheerios" because we liked to reuse boxes. But you can eliminate this problem by decorating your box rather than wrapping it. Gold spray paint would be great, contact paper is nice, even last year's greeting cards can cover up the label if most the box is simple, such as this shoebox. For the contact paper box, I used a sturdy corn dog box, coated it with a light spray paint primer first so the label wouldn't show through and then wrapped it carefully with the contact paper. I can just see someone reusing this box for storage! And if not, it's recycled, so it's already been reused once!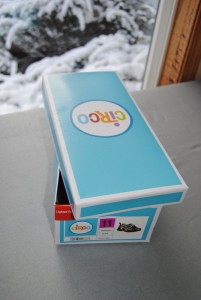 5. Don't forget decorative tins.
I think of my mom as I write this one! She used to collect tins! I think she still does, she uses them for storage in her sewing room and pantry! So pack up your mom's gift in a pretty tin, I bet she'll appreciate it!
Making it Pretty….
Just because it's reusable or recycled, doesn't mean that your gift has to be any less pretty on opening day. Feel free to add ribbons and gift tags. Use nice fabric ribbons and they might even be saved too. Try a tie on such as a tree ornament or festive brooch instead of the plastic premade bow.
I even like the idea of using a knit scrubby instead of a bow! Imagine this little treat in more festive yarn! (red and white?!) There's an easy pattern for it here. I just made this last night thanks to Bobbi from My Little Soapbox, an earlier stop on the blog tour!! Thanks, Bobbi!
And thank you Julia, for inviting me to participate in your frugal blog tour, it's been fun!
Now go wrap your presents!
Happy Holidays!
-Emma