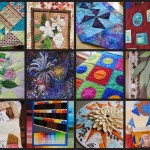 Wow! There's a lot of action this month in the quilting world. Everywhere I look there's a new project or quilt-along to join! I'm still deciding what to focus my energies on…how about you?!
Project Quilting!
Near and dear to my heart, as I've participated in two seaons and TWELVE challenges…this is the top of my list. I'm definitely joining Project Quilting Season 3 and counting down until this Sunday at noon when the first challenge is issued.
Here's an inspiring collage of all those challenges I did…it's getting me so excited for the next challenge!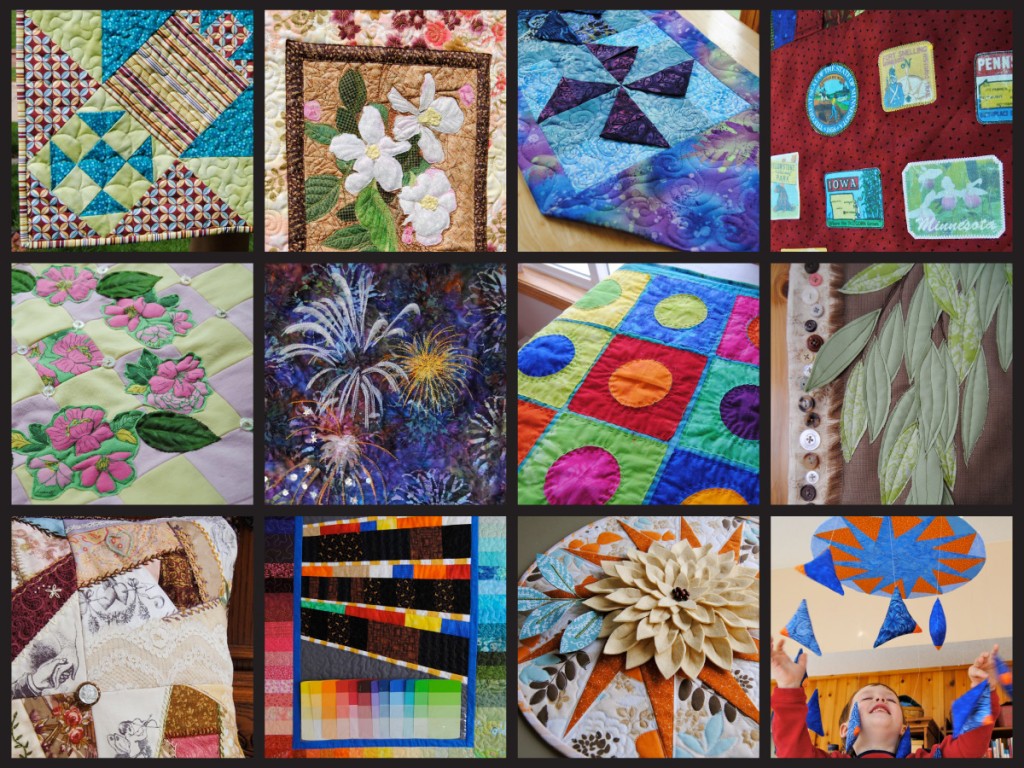 The challenges are a week long, wide open for creative interpretation and there are prizes that that everyone has an equal chance at this season (no judging or voting). Go to Kim'sCraftyApple.blogspot.com to find out more or to join in the next challenge!
Free Motion Quilting Project Quilt Along Wednesdays

Now that she's finished 365 designs, Leah Day is going with a more interactive approach to teaching free motion quilting. She'll be hosting "Quilt-along on Wednesdays" and answering questions on Thursdays. She's starting out pretty basic, with loops that eventually turn into stippling. She is working bigger and quilting larger areas to help us fill full quilts…a practical approach that I'm really excited about. I'm sure practicing free motion quilting would be good for me, so I'll probably participate when I can. The first video is pretty basic, about stippling and I'm sort of set in my ways with stippling! I could practice making it different sizes, though. I notice that I can do different sizes of stipple based on the space I have to fill, but I have to work to keep it consistent in scale.
For even more free motion, Leah also mentioned another challenge project focused on free motion quilting. She will even teach one of the months.
2012 Free Motion Quilting Challenge
I'm not familiar with the blog of SewCalGal (although I will be now, it looks great!) but she is hosting another challenge that will go on all year. Each month another free motion quilting expert will post a video or instructions on a technique, with a challenge. To participate, you simply practice the technique they teach and post pics of your work on your blog or flickr gallery. Then you can win prizes too. I'm still considering whether I will join in this one. It looks like good practice as well. The first tutorial was about quilting leaves, another technique I'm familiar with, but could always practice!
The prizes include thread packs, books, EQuilter software and gift certificates. That would be fun!
I just participated in a contest from a webinar and won myself a free coaching session with Darla LeDoux of Profit SOS, so maybe luck is with me on this whole prize-winning thing!
Quilt Along: Farmer's Wife
One thing I'm really committed to is a project I'm doing with my small group, a "Farmer's Wife" quilt-along. But you can also do that online. There's a yahoo group for it and flickr group and lots of bloggers out there when you start looking. We're working from the book "The Farmer's Wife Sampler Quilt" by Laurie Aaron Hird. There's lots of info on a website here, as well as links to the groups online. Basically it's a sampler quilt of 111 different blocks, all with stories based on the answer to the question "If you had a daughter of marriageable age, would you, in light of your own experience, have her marry a farmer?" from the 1922 Farmer's Wife Magazine.
I'll be doing a few blocks each month to bring to my small group meeting and I'll probably post them here too. Right now I'm still choosing my fabrics and colors.
Quilt-Along: Craftsy Block of the Month
When I'm not busy piecing for my Farmer's Wife swap, there is another block project that looked like so much fun I signed up. I don't know yet if I'll join in, but Craftsy has a very cool platform for taking classes online and the first few videos were really amazing for their FREE Block of the Month! You can enroll for free any time of the year at http://www.craftsy.com/class/The-Craftsy-Block-of-the-Month  It looks like it will be a fun modern project, to contrast with the Farmer's Wife style!
Quilt-Along: House and Trees
This is another project of Kim's at the Crafty Apple is this quilt-along, which I promised to design a block for! It will be a quilt made up of sixteen 12.5″ blocks all from different designers but all to include a tree or house or combination of such. So, I'll at least have one block to make, but participating in the whole project might be fun too. Here's her write up about it, and here's her inspiration quilt photo! Silly Kim, she thought we weren't going to have anything to do in the weeks where there wasn't a Project Quilting Challenge issued! Ah, this post will prove her wrong!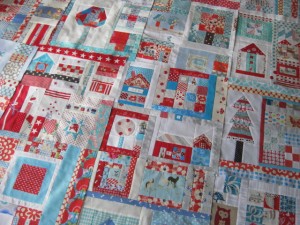 Stitch-Along at Feeling Stitchy

If you're not in the mood for quilting OR piecing, how about some stitching?! There have been monthly stitch-alongs at Feeling Stitchy for a while and it seems they are still going, as January's design has been posted. They're using hand-written letters, something I do on a lot of quilties, but on cute little buntings! Oh and it's with couching, that's a fun technique for someone who has a small stash of yarn from the time she tried knitting but didn't stick with it! Worth a try, I think!

"Sew Scraps Along" at Pleasant Home
Ok, funny name and from the sound of it, it will be way more than just a simple project to follow along with…it will be more like lots of projects, tutorials, stories, blogs to follow and giveaways to enter, so I think I'll just try to keep checking in with Pleasant Home this year…you know, because I'll have so many scraps created from all those other projects I plan on working on in 2012!
Ok, phew, that's all I have time to write about tonight…I hope there's nothing really good I missed. If there is, be sure to let me know!