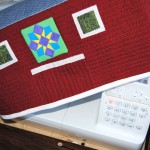 The theme for Project Quilting Challenge 4 of Season 3 is Barn Quilts. I did some research and found some beautiful barn quilt images from Iowa.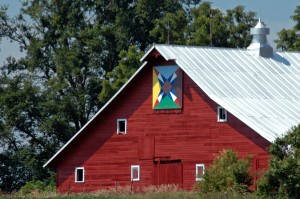 Luchsinger/Butler Barn, Dike Iowa
Bernie & Elaine Schnell, Parkersburg Iowa
Robert & Eileen Murra
So my concept started with a red barn sewing machine cover. I recently read that you should cover your machine to keep out dust. I've only ever thought of the dust that accumulates while I'm sewing, but I suppose there is just dust that will get in by sitting out too, so now I will keep it covered more while I'm not using it. I only had one good red fabric, so instead of piecing it together, I just quilted the lines for the slats of the barn wood, horizontal for most of it, vertical for the door. I added white windows and trim, like the Luchsinger barn and so many others. And I just happened to have a nice gray shingle-looking fabric for the roof. I constructed it in three pieces, the middle and two sides. The roof has a peltex stiff interfacing inside it that is pretty stiff. That way, the top is straight like a roof and the sides drape down nicely. Otherwise, I think it would have been lumpy and look more like my sewing machine than a barn.
Here are some photos.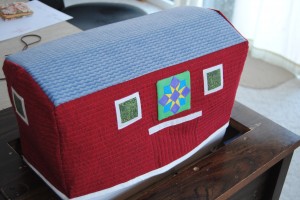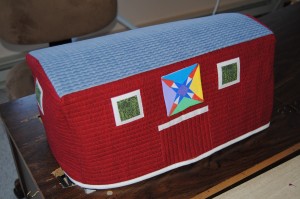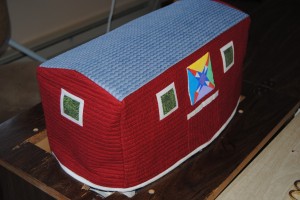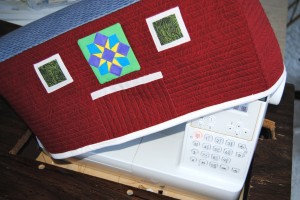 Most barn quilts are painted onto plywood and hung as signs on the barns, so that's how I did my barn quilts too, sort of! I painted white fabric, then sandwiched it into a little quilt and hung that on the side of the barn with some whipstitching. I like how they stand out a little from the barn. The painting was a little tricky and impossible to get totally smooth lines and pointy points. I taped it down, but it was still painting on fabric. But not as tricky as if I had tried to piece a three inch block that complicated!
Overall, I'm very happy with my new sewing machine cover! And I'm proud to have it done before the Sunday morning deadline!