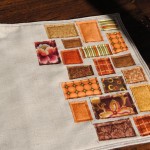 I just finished a whirlwind of inspiration that ended with a few really pretty fall placemats; perfect for Thanksgiving! Before I go back to it and finish enough for our family meal, I had to tell my quilting friends about this idea!! Maybe you'd like to whip a few up for your fancy dinner. Seriously, I thought of this at 11 a.m. this morning and I'm already made three and wrote this post, they're that quick!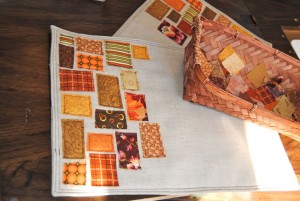 Here's where my inspiration started…my beautiful fall fabric stash!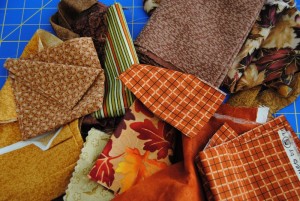 I cut them up into little pieces. Ranging from 1″ – 2″ in various squares and rectangles, done with a scissors for a little imperfection and a lot more fun for me.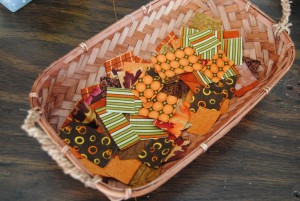 Then I made a simple placemat out of linen. (I got a big nice stash of it at a garage sale this summer!)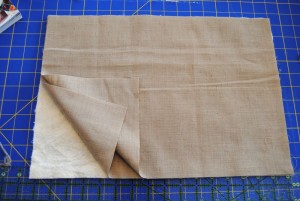 I cut two linens 11.5″ x 16.5″, one batting the same size — sandwiched, pinned and sewed around the edge leaving an opening for turning. Turned it inside out and topstitched the edges; twice just to look special.
Lastly, the fun step…I stitched on the little pieces. I just used a straight stitch close to the edge (1/8″ I think.)
Snip the threads and it's done!
I didn't cover the whole placemat, just the one side, so it will be better for putting a plate on and it looks a little modern being asymmetrical!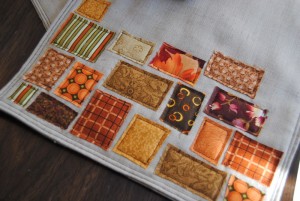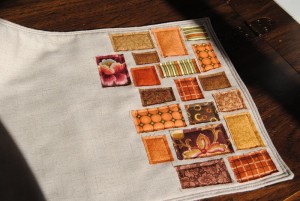 You could call them "Ticker Tape" placemats, because the technique has been done before. I think Amanda Jean of "Crazy Mom Quilts" started it. Here's her great story about it. And Sew Mama Sew did a cute doll quilt with it. I just looked at the dates of those posts and they're pretty old, so I guess I'm behind the times, but the technique is really fun and was a great way to dress up my linens with some beautiful fall colors!
Now, how many for dinner, Mom?!