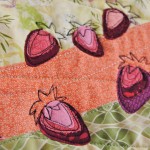 Project Quilting 3:2 – be inspired by the title of a song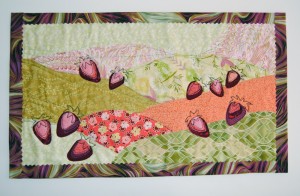 I had a piano book called "The Most Beautiful Songs Ever" open on my lap and thought that was a good place to choose a title from. There were lots of very cheesy, mucky titles about love and beauty and willow and stars…but then I asked Dave for a "visual" song title and this was his first idea. Brilliant!! I'm so glad I asked him. I wanted to make a totally recognizable "Strawberry Fields" quilt and I think I love it!  I listened to the song at least six times through while working on this.
It's mostly improvisational. I just cut some rolling hills and arranged them right onto the batting and quilted them together. I didn't even have the size nailed down when I started. Then I cut out a bunch of little strawberry parts while on the phone with my mom! I arranged them and stitched them on in a deliberatively sketchy way. I practiced that first on a separate piece, because I really loved my hills and didn't want to wreck them. It almost could have been complete without the strawberries. But when I placed a strawberry on the fields, it made me smile and giggle out loud, so I knew it was right!
Then I had just a small chunk of that perfectly psychedelic binding fabric. So I chose to do a single layer, fused binding cut with a wavy rotary cutter, because I had to make it fit!  The finished quilt is 10.5″ x 18″ I made a challenge to myself that no side could be more than 20″ this time, because last time I started too big! Then I had to trim the sides a little because the binding fabric was too short! But I only used scraps and I'm proud of it!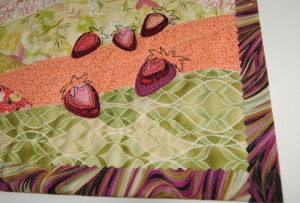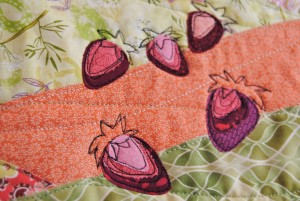 Ok, so if you aren't playing along with Project Quilting, I just have to tell you…on a Tuesday night, when usually I would be sitting around watching tv or cleaning the house I decided to start thinking about PQ and launched into this truly wonderful evening of quilting and being creative with time I otherwise wouldn't have used for myself. It was a real treat, got my creative juices flowing and really energized my whole week!  The one week deadline may sound crazy, but it sure eliminates the UFO problem and I end up really enjoying the process from start to FINISH!