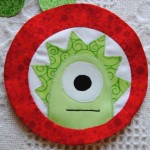 I'm working on a super-fun project and I've been dying to show you my progress, but I had to wait for my replacement camera cord to arrive in the mail. It did just 10 minutes ago!! Here's what I've been working on!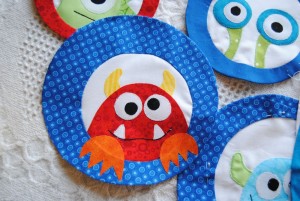 There! Those were the most fun pics! Before you start thinking I'm that clever, know that Kellie of "Don't Look Now" is the author of this very fun pattern called "Lil Monsters" here's her blog post about it. Please click the link to see the whole quilt pattern, it's pretty great!
Here's a few in progress pics, which I had hoped to show you last weekend.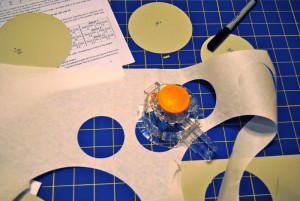 I used my fiskars circle cutter to cut a whole lot of freezer paper circles.
See!
I had fun making striped fabric out of plain fabrics.This will be cut into triangles for the border.
The most fun, of course, are the monsters!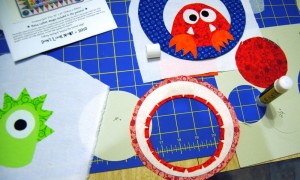 I'm loving Lite Steam a Seam 2 fusible web. I'll have to write a post about that later, but it is the best stuff for making fusible applique easy!
Hope you're liking it too, Paxton's Mommy!