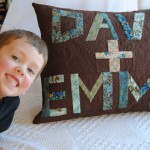 Sunday was my twelfth wedding anniversary! I love you, Dave!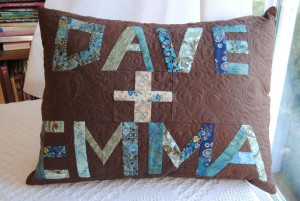 I made this pillow for my husband. I used Tonya Ricucci's method of improvisational piecing to make the letters in colors that look great with our couch and other couch cushions. It's a standard size pillow, but I still made it like a quilted pillow sham, not just a standard floppy pillow case.
The close up shows the quilting. I chose to use one of Leah Day's Free Motion Quilting Designs, called "Heart Ripples." It's ok to be cheesy on your Anniversary! Dave loved his gift!!
He got me the sweetest gift yet, a "new" clarinet! I've had a broken down old clarinet since I stopped playing after college, but would keep trying to get back into music over the years with no luck because it was so broken. Now, I have a perfectly working clarinet and I can play music again. It's fun to play with my fifth grade son who is learning the trombone!
…and here's the photo of Brennan with my creation! Like I said before, he sees the camera and wants to be in the picture! Gotta love it, I know many a kid who would rather hide or make goofy faces, so I love Brennan for his smiles!