Flying Geese Challenge
So, very sadly, I missed Challenge 5 because we had to go out of town on Thursday and I just couldn't get this project done in time. But I had started it on the Sunday of the challenge and tried really hard to get it done in time, so I decided I just had to finish it as soon as I finished Challenge 6. Besides, I promised this one to Brennan, so I couldn't leave it unfinished forever.
The challenge was to use the traditional flying geese quilt block in some way AND to use a complementary color scheme.
So, instead of just using the block, I decided that "Flying Geese" would be the WHOLE story behind my project. I took those flying geese triangles and turned them into REAL little flying birds in a mobile!!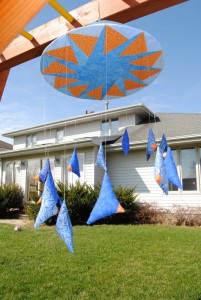 Each triangle was given a beak and stuffed lightly to be a stylized goose.
For the top of the mobile,  I made a quilted circle of flying geese using paper-piecing. (I think it's the same pattern that Dashasel used in the winning piece, although I didn't know that at the time I was making it!!)
So, I made that circle of flying geese, sandwiched it like a real quilt, with peltex stiff interfacing to make it stiff. Then I wrapped a wooden embroidery hoop with blue satin ribbon, to really reinforce the circle and ensure it stayed stiff. I hot glued the quilted circle to the hoop. Here you can see the hanging. It was a windy day this morning, so you can't tell, but it really hangs straight!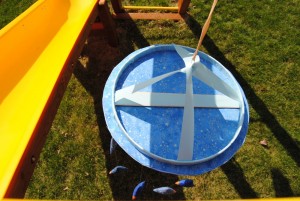 This photo shows how much Brennan really loves it!! I think we'll hang it down in the play room in the basement…but he wants in the living room so we can see it "ALL THE TIME", isn't that sweet?!
I'm sad that I didn't get to enter the Project Quilting contest for this round, but at least I got this great project done because of it!! Project Quilting is so great!!