I'm pretty joyful today! It's almost Christmas and I've had a lot of fun making presents and packages…the Christmas tree is right by my desk sparkling and looking pretty…so I'd like to try my first blog giveaway and have an excuse to send another package!
If you'd like to win one of my reusable shopping bags, here's what you can do: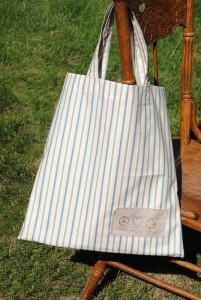 1. Make a comment on this post about anything you like in my Quilties Shop.
2. Like Quilties on Facebook and then leave a comment here that you did. Look in the right sidebar for a link.
3. Join this Site with Google Friend Connect and leave a comment on this post to let me know you did.
That's three chances to win.
I'll close comments on December 26, and draw the winner on December 27. Then after all the gift giving is over, there will still be one more in the mail for the lucky winner!
Gift Bag Tutorial
I also decided to make a quick little tutorial for the holiday gift bags I had so much fun making and wrapping gifts in.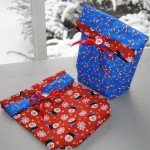 They're really easy and you can have lots of fun mixing and matching festive fabrics and picking out a big perfect button.
See the projects tab on top for a link or click here.