My boys love Angry Birds this year…what kid doesn't, huh? Well, I made them a few accessories to fill their requests for Angry Bird stuff.
By far the best was these hats!!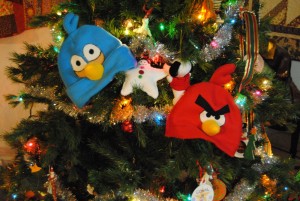 We had seen some knitted angry bird hats at a gas station and thought I could do a better job with fleece. I think I did!
Except that as you can see in the pic, Brennan's was too small. I wanted them to be a surprise, so I couldn't try them on the kids. I just measured from one of their current hats. But when constructing, forgot to orient the grain of the fleece so as to stretch AROUND their heads, so I did have to rip a few seams and reconstruct them once. Aw well. It was only too bad that I had made it fully-lined and top-stitched before realizing my error!!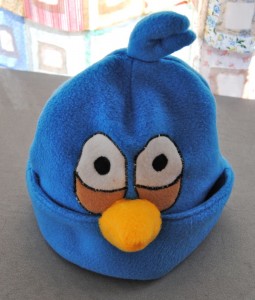 The next thing I made was really my son Conal's idea. He wanted a "Pig Fortress Building Kit." His idea was to use foam or boxes to make bricks for building pig houses. I bought a sheet of 3″ thick foam and covered them with brick patterned fabric like you would a baby block. The roof is a sheet of heavy-weight plastic canvas covered in fabric and batting.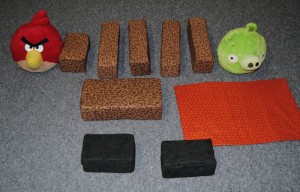 This was the tote bag and sign for storing the game.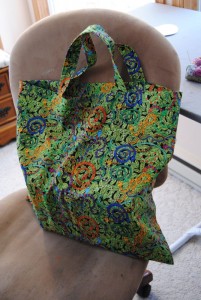 Here's a pig in his fortress!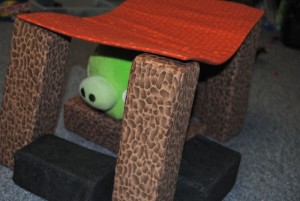 And here's the fortress after launching a bird at it! This makes me very glad they have a big basement room to go throwing around their toys in!!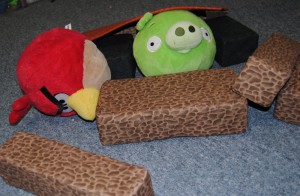 Here's a funny action shot of Conal trying out his angry bird hat and pig fortress on Christmas morning (hence the mess all around!)
I think I took enough photos of the process that I could write a quick tutorial, let me know if you're interested.