Large Scale Fabrics Challenge
Finally, I have a project to tell you about!!! I have had a rough March as far as getting things done, but I've had lots of things in the works. I'll tell you about more of them later, first I have to show you this challenge project, I love it!
The challenge was to use a large scale fabric. Here's mine. I loved that white mum in the center and the very elegant leaves.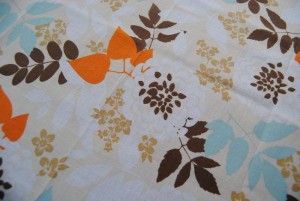 So I came up with a plan to make a three-dimensional version of the mum. I had socked away this "Snow Mum" pattern from Amy Butler a while ago, so I had to go search it out. I also had this paper-piecing pattern for a circle of flying geese I made for another project. (I'll show you that whole project later!)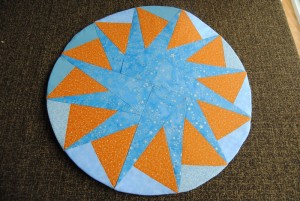 I modified it to have more background and eliminated the geese to make this background.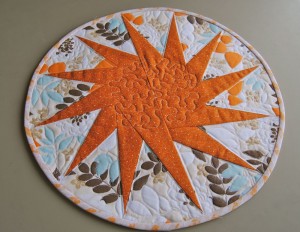 Here you can also see that I quilted around the designs in the background fabric, since they were so subtle in contrast, but the real story behind the quilt, so I had to make them stand out more. I think it really worked. Even white leaves on cream are visible when quilted around!
Here's the mum placed on the background! It's made from two layers of wool blend felt fused together, then the individual petals cut out, sewn down the centers a little to give them curve and then sewn to a circle one by one. My sewing machine couldn't stitch through all those layers of felt without skipping a lot of stitches, so I ended up stitching them all on by hand. The center has some stained brown wooden beads, because the fabric design had those brown seedy centers, too.
I loved it! It fit perfectly to make just those spinning orange star points pop, but still shows plenty of the background fabric! Then I thought it was getting a little too symmetrical and circular, so I added a little interest with a blue leaf branch. I made those out of felt with a real nice blue/green cotton coordinate fused on, then cut out and sewn to florist wire, so I could make them pose just perfectly!
The last finishing touch was part of the challenge, it required a stripe or plaid to be used somewhere in the piece. Perfect, I love stripe bindings and this pretty peach/orange subtle stripe coordinated perfectly and added a little more spin yet. I cut it on the bias, so the stripes slant like a candy cane AND it wrapped around the circle perfectly smooth without any tucks!!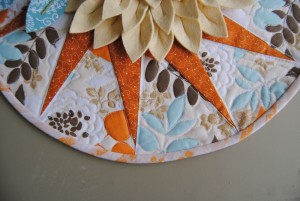 I'm so proud!
And it looks really beautiful in my studio.