Just before Father's Day, I watched the latest episode of The Quilt Show with Alex Anderson and Ricky Tims and was immediately struck by a great project to make for my husband's gift! Here's a preview of the episode (#812, June 6, 2011)…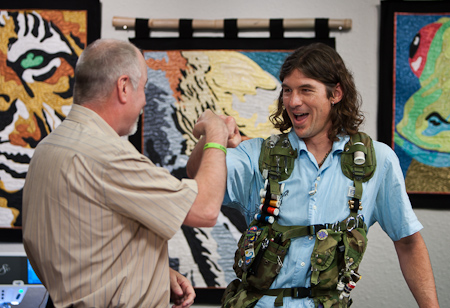 and here's the project that I just couldn't resist…the tiger behind him. My husband is a teacher at a school with high school spirit standards and a tiger for a mascot! I knew this would be perfect for him to hang in his large classroom and get a lot of attention!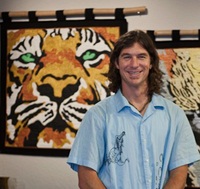 Photos above by Gregory Case
I ordered the pattern at RobAppell.com and therefore supported the Endangered Species Quilt Project! The pattern came really quickly, so I was able to get started just a few days later!
I wanted to show your work-in-progress shots but it went together so quickly, I didn't take many photos, I just kept working! It's raw-edge fusible applique. The designs came full-sized, ready to trace onto fusible web, fuse to fabric and cut out. It was a lot of pieces, but that part was really fun. The most difficult part was laying out all those pieces. There was a numbered diagram to follow, but it felt a lot like drawing, seeing where everything aligned by eye.
Ok, I can't type any more, I just can't wait to put in the finished photo RIGHT NOW!!!
Be sure to click it to see a larger view!
Notice that I didn't follow Rob's quilting suggestions. I looked at photos of tigers online and free-motion quilted lines to indicate tiger fur and give it dimension and a little realism. It was really fun to do, but did take quite a bit of time!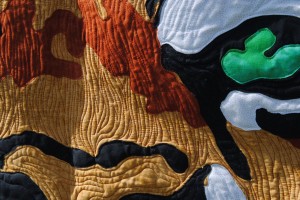 The main thing is that Dave LOVES it! But it was also fun to bring it to my guild meeting last night and get lots of compliments! I love having a guild meeting as an incentive to getting projects finished. I was binding in front of my computer yesterday, but I got it finished. Without the guild meeting to keep me going, I might not have finished it until September!
If I can get permission from the owner, I'll enter it in the Iowa State Fair! He will be out of town during the fair anyway, so maybe he won't mind. That would sure be fun!
Thanks for looking and please leave me a comment if you like it.