Ever see a project you just have to make…so much that you abandon all your other works-in-progress to just start and finish all at once?! That's what I did this weekend with this silly little "Button Bag."
I saw the pattern when I was on a business meeting at the Quilt Block. They had a sample made up that was so cute even Brennan loved it and wanted to take it home. I told him we couldn't do that, but that I could buy the pattern and make one for us. But I admit, when I started making it, I didn't think of making it for him. I really just wanted to use some of my charm packs. I have several charm packs and a shoebox size tote full of hand-cut and swapped charms in my stash. They are just such a fun size to collect!! It's just big enough to see the pattern of most fabrics and small enough to cut lots from scraps.
Anyway, this is the pattern. And this is my start….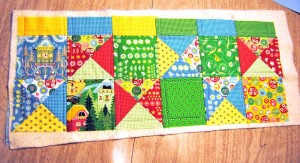 I used the charm pack called Hideaway by Moda. Just that, no scrap matching, just pulling it right out of that charm pack so I could get stitching. It was actually pretty fun that way! BUT I didn't like it as I was stitching it together…it looked like a multi-colored mess, too wild and kiddish for me. (The color in the photo above is not very accurate, but it was pretty wild!) UNTIL…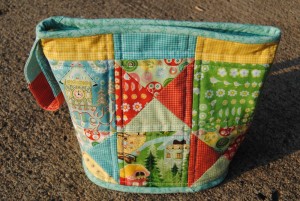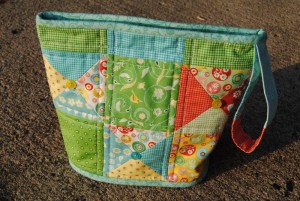 It was turned into a bag. Then, it was actually really cute! (color above is much more true)
Maybe it's because you can only see half at once, or maybe it's because those multi-colored fabrics are a part of something in a cute and fun-to-hold shape…but I love it!
Oh, it has a zipper inside too. Not a great construction method, though, because the zipper was to be sewed in by hand and it was really difficult to do. If I make this bag again, I'll try to figure out a better way.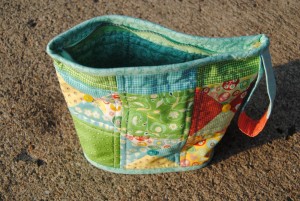 Anyway, fun sidetrack weekend! Plus, we got a whole bunch of yard work done, the floors washed & vacuumed and laundry done…a very good weekend! Hope you had a good weekend too!