Project Quilting Challenge Entry 4:2, the theme: "My Favorite Color," the challenge: to use only one color and white in your project.
I fell in love with this embroidery pattern on Sunday morning and couldn't think of anything else I'd rather spend the week working on. So I literally worked on it all week…when I was picking the boys up from school, while watching tv in the evenings and even a little in my lunch breaks. It took a bit longer than I thought it would, but I still really love the design and how it turned out!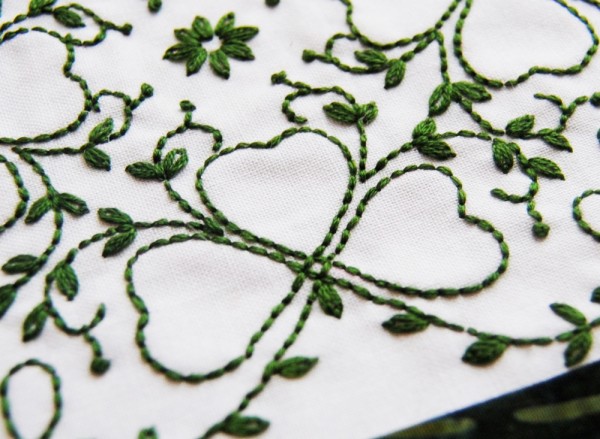 After I had this lovely medallion, I knew the framing had to be spectacular! So I did try out a few different designs before coming up with the one I did. First I tried a chevron/braided design with little strips. The strips were too little to get straight and it cut apart these beautiful batiks just way too much. I drew some celtic knot sort of things, but they were all very complicated and I didn't want to distract from the embroidery. A series of straight borders was looking nice, but I decided the embroidery was more dynamic on point, so triangle borders were best. But then I remembered a book I had on layered blocks and how the borders were literally laid on top of each other. I wanted the dimension that would bring, so I tried it out as borders and I really think it worked!
So, if you don't know what I'm talking about, I'll explain. The first border is four folded strips, with the folds to the outside, stitched to the embroidery at the open edge. The next border is a series of four large squares folded diagonally and layered. I overlapped them in a clockwise fashion to emphasize the free layers and give the piece a circling movement that I think draws your eye around the medallion nicely. There is one line of stitching over the largest border triangles, but the rest overlap free.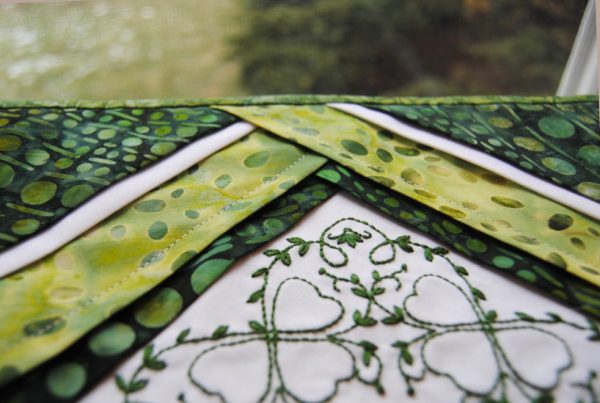 This little quilt is just 12″ square. A very comfortable size for me!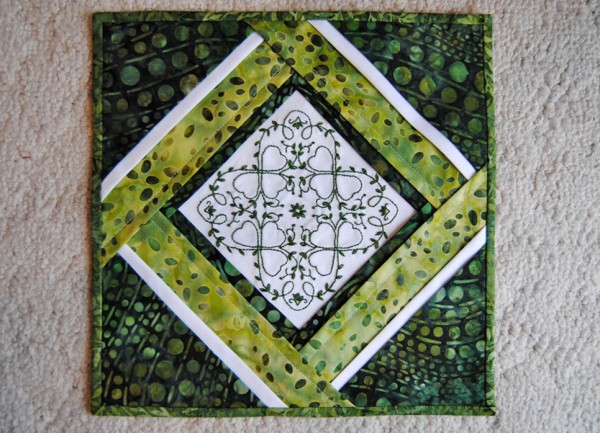 I also want to mention the three green batiks. Aren't they gorgeous?! I bought them in a bundle from Kym at Fabric Fascination, an etsy shop with amazing little bundles of fabric. I just bought another bundle of pink flowery fabrics I can't wait to do something with for Valentine's Day! It was a third of a yard of each and just the perfect amount to experiment with and then do whatever I wanted in this quilt. Thanks Kym!