Funny story, I used to knit…I was never really "a knitter", but I do know how and have done a few projects. A stuffed pig and dolphin were two of my very first projects, I also did a few slippers, hats and a nice backpack. Never a sweater. Never a finished sweater anyway! I did start one for Conal when he was about 2 years old. I bought yarn store denim yarn that was soft and wonderful and started a pretty simple pattern. BUT there was a big problem with the yarn I bought, and even though I checked the dye lot numbers, the color was still very different from one ball to the next and made a big ugly line down the front of the sweater. Sooooo, the yarn shop apologized, gave me free yarn replacements AND I started again. But I had really lost steam, Conal grew quickly AND I lost the book that the pattern was from! So it sat in my UFO basket high on a shelf in my studio for years!
I just looked at the beautiful half-finished sweater this year again and decided it needed to be completed. But without the pattern or a little boy small enough for it, it had to become something new.
Here's what I did!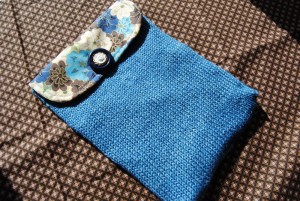 Fabric-lover that I am, I had to use some quilter's cotton for the lining. I used the beautiful floral that I loved when making Assi's quilt.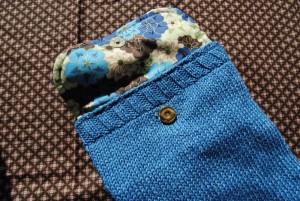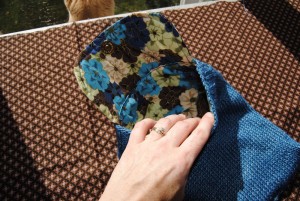 With my hand in the photo maybe you can tell size. It was a perfect fit, using the whole back of the sweater, folded lengthwise, including the nice ribbing for the top. Then I added the flap, with a magnetic closure and a decorative button. I finished it with an i-cord strap, not pictured, which I did have to knit this year. It was a pleasant way to pass the time at a soccer game, and I was surprised I could still knit without really looking! Yeah! (I couldn't look away from the game too much or what kind of mom would I be?!)
So, if you don't like that UFO you've got packed away, maybe you could turn it into something you do like!!