I've been quilting like crazy lately!  You wouldn't be able to tell it from my blog though, so I hope to post a few of my recent projects over the next week. Since I can't decide what order to show them to you in, I'm going to start with the one I just busted my butt to finish today!
Upon receiving an email 10 days ago that my son's school needed donations for the silent auction basket and our theme was "Family Fun in the Great Outdoors" I asked an innocent question, "did they have a picnic blanket yet?" It was on the list of suggested donations, so I couldn't resist! I was thinking of a few great fabrics I had been saving for a picnic blanket (with ladybugs and watermelon…) Well, I probably should have thought that through a little more, because I really only had a week….but I managed to do it! In three days, actually!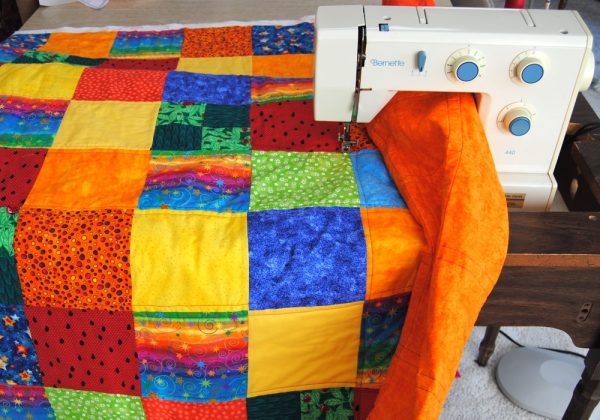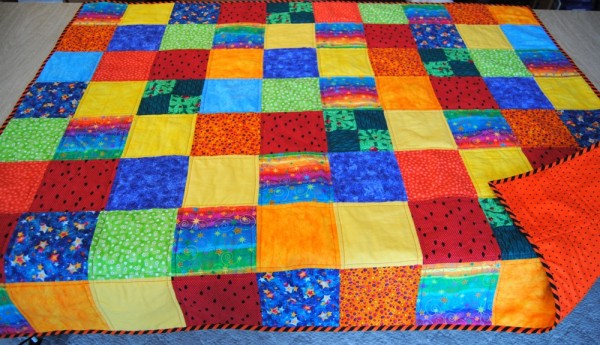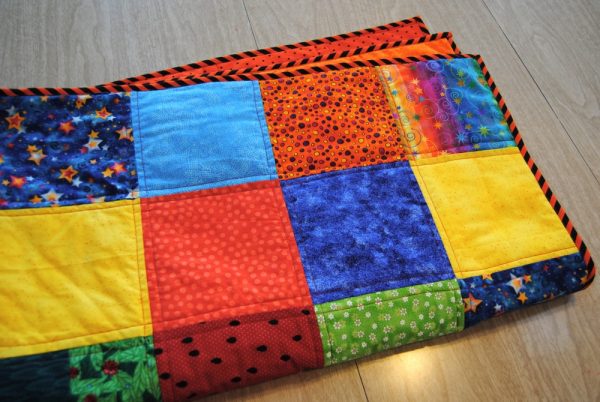 The first photo shows that I had to use my back-up sewing machine because my Babylock is being serviced. It was fine except that I don't have a walking foot for it anymore and it really needs one. I have quite a few puckers at the quilting intersections. But I don't think that will matter for picnicking!
The orange and black stripe binding may look a little hideous, but the schools colors are black and orange, so I think it will go over quite well.
And yes, it really is as bright and colorful as it looks. Laying it out, I really thought it was almost too crazy colorful, but it really has grown on me. AND best of all my kindergartener is thrilled by it…which is the point since it will go in the Kindergarten auction basket with other colorful outdoor toys.
Yeah! I feel like a quilting superstar to have gotten that done so quickly!