Not sure how long to make this story…Our town got a new grocery store last summer, a big fancy HyVee. Its not my usual grocery store, but it does have the best produce section I've ever seen. Really! You can buy starfruit and dragon fruit and seven varieties of onion any day of the year! So this was my inspiration. I chose to stick with the less exotic, everyday veggies and look at the nice forms to sketch. Another part of the story is that I was watching Lisa Congdon's Creativebug course on Line Drawing. Fabulous, fabulous course!! I might not have needed any teaching about drawing, having a BA in art, but I still thoroughly enjoyed her first video lesson and it is a series and I can't wait for the next installment! I learned a lot already! One thing I took away is that even when drawing from life, she just did her own thing. Looking at the thing she was drawing and then making her drawing how she wanted was her style. I love that!! I now have a stack of more than 20 doodley drawings and I just can't stop!Well then, here's what I did for Project Quilting's challenge. First bought any veggies that looked pretty. Then sketched them. Simple line drawing sketches, not super-scientific…thinking about the lines, curves and shapes.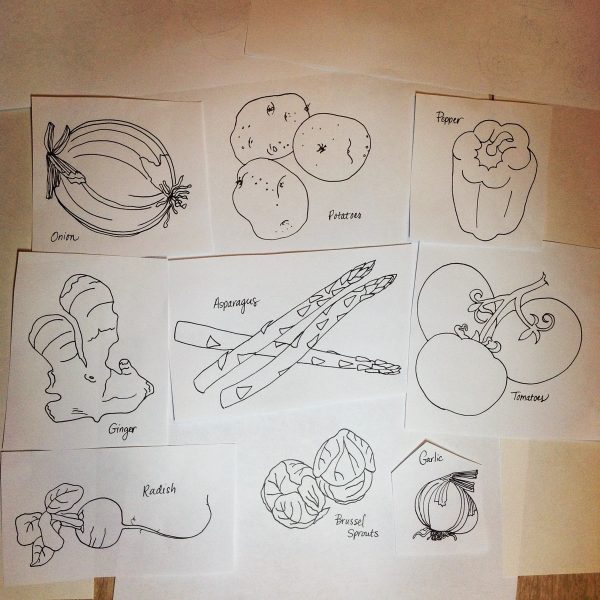 Yeah, I just joined Instagram, so it's an instagrammy photo! Entered the Creativebug Instagram challenge with these little veggie sketches…
Then I transferred them onto some fabric chunks. Nothing high-tech, just used my lightbox and drew on the fabric with Micron pens. I chose light to medium tone-on-tone fabrics with cool textures. I went to the quilt store for this one and chose several other interesting fabrics. I'm not sure if the photos show, maybe in the close-ups. They are truly lovely fabrics, though somewhat more subdued than I would usually choose. I don't have any good in progress photos, but I didn't plan this quilt fully before I started sewing (as usual!) I just decided each little veggie needed its own frame, so I trimmed the blocks around them at random sizes, making each block look its best, not really caring if any were the same size! I know, scary!! Then I arranged and rearranged until the composition worked! I tried a variation with more strips in between, but then the sashing started taking over, so the final design is pretty simple. I didn't want binding or borders to mess up the simplicity, so I just sewed around the edges, leaving the edges where they ended. I like the effect, like I really did frame all the sketches and make them into a quilt.
"Veggie Vignettes"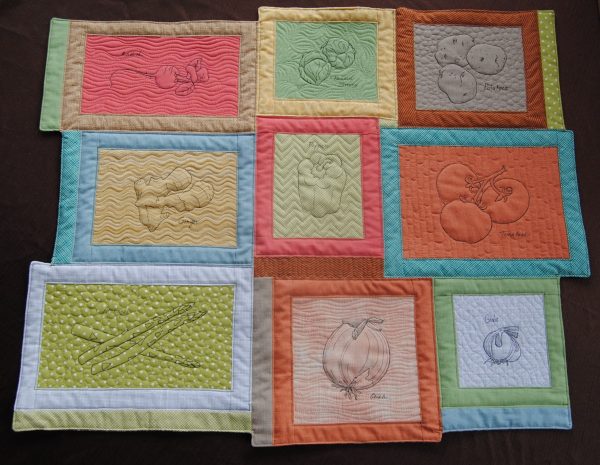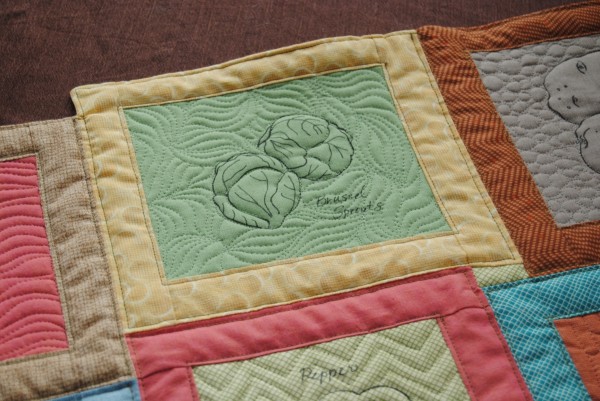 The quilting is done in invisible thread. I really like the effect because it didn't mess up the ink drawings but gives the backgrounds texture. I didn't quilt much inside the veggies to help make them pop out of the blocks. My batting is pretty flat, so it's not real poppy, but subtly nice. I also didn't quilt the frames because I wanted them to stay "up" around the sketches.
I tried a few interesting textures in the quilting. I love how the invisible thread hides mistakes, because it's pretty easy to mess it up when you can't really see the thread!! But somehow even the imperfections add a great texture!
Ok, so that's it. What do you think? I think I'm going to go make veggie soup!!
Here's the link to Persimon Dreams' Project Quilting Link Up so you can see the other challenge pieces. And if you're a Creativebug member or thinking about it, go watch Lisa Congdon's Drawing class. You'll have lots of fun!