This week's challenge for Project Quilting made me groan a little when I read it, but I'm glad to say that I kept thinking about it for a few days and when the inspiration finally hit, I really had a lot of fun and success with it! The theme was Upcycled and I truly raided my recycling bin for this piece.
Here were the rules to the challenge:
The front, back, borders, binding and embellishments should all be made from materials that have had a previous life as something else.
You may use new thread and batting.
Your project must include at least 2 materials that were never intended for use in a quilt or clothing.
Your project does not need to be a traditional quilt, but must meet at least one of these requirements:

Include patchwork.
Include appliqué.
Have 3 layers stitched together by hand or machine.
Here's the project I came up with… I cut out lots of butterflies from recycled materials. Some of them I backed with cardstock before cutting them out, but I made sure to use recycled cardstock too! I found lots of fun images and colors from packaging, magazine pages, etc. Some of the other cool things I used were an old valentine, paint chips, some orphan patchwork blocks, ATCs I never sent and the blue security envelope printing. Each one surprised me with how pretty my garbage could be!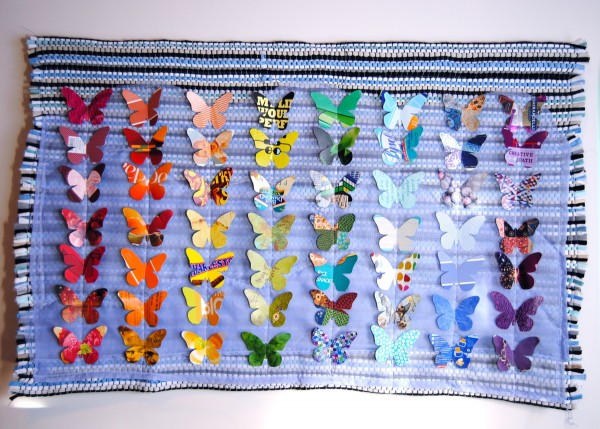 Click the photo to see it larger, please.
The base of this project is a rag rug. I had to search all over town to find one to buy because the ones I had at home were too ratty and dirty, but the tag said 100% recycled materials, so this still fits the requirements. (I've always had a thing for rag rugs, I think they are so pretty and quaint!) BUT I started laying a few butterflies on the rug early and they literally disappeared into the rug, so I had to do a little brainstorming with my mom to solve that problem. I did it with a sheer curtain I had in storage since we changed houses. It never found a proper home for it in this house, so I decided it would be ok to cut it up. It's a light blue-ish, lavender and worked perfectly to be some clouds and tone down the contrast of the rug. I appliquéd the curtain on top in three layers with cloud-shaped tops. You can still see the rug through the layers, but now you can see the butterflies too!
I arrange the butterflies in several ways, swirling through the clouds as if in flight and staggered, but then I thought of the butterfly exhibit at Reiman Gardens in Ames, IA that my kids love going to. They have a wall there of all the different kinds of butterflies from the garden. We could stare at that wall all day admiring the beauties all in neat rows, so that is the final arrangement I chose. Now I can admire each pretty little piece of trash! Actually, the kids even like looking at it and picking out where the butterflies came from. (Conal's favorite is the Charleston Chew box, Alivia liked the paint chips, I'm pretty fond of the Christmas card and the pages of the food magazine that had blueberries, pineapples and peppers.) I also hope you notice the rainbow effect, it's pretty obvious in this nice, neat arrangement.
Let me tell you, sewing on those butterflies was not as easy at it looks. I was happy that I decided to first mark the lines and stitch them before adding the butterflies (so I could erase the water-erasable marking pen before adding the paper!) But then I couldn't really pin them in place well because I didn't want to make unnecessary holes in the paper or bend my pins to get them through. So I used the stripes in the rug to line up the wings as I sewed through the centers. I also had to be really careful not to bend the piece too much to crease them. I sewed on half working from the center out, then turned it upside down and did the other half from the center outward and that worked! I was very glad the rug wasn't any bigger than it was.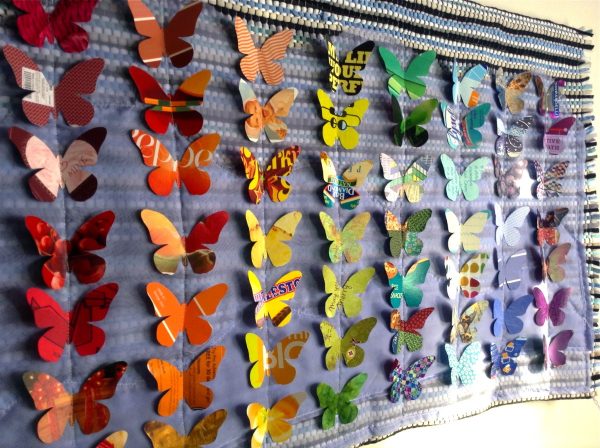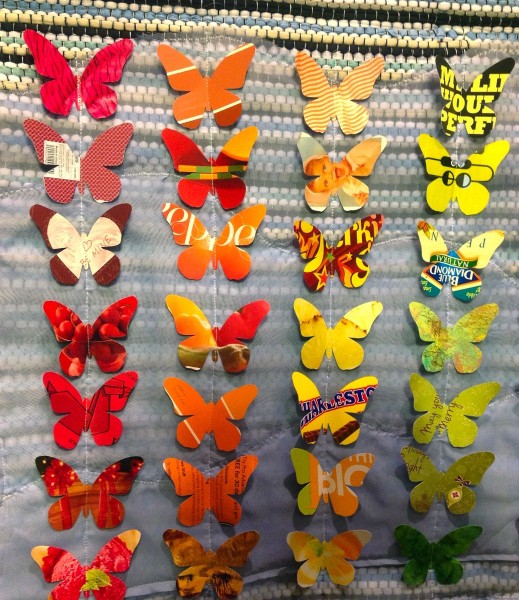 As usual, lots of other Project Quilters made some fantastic works of art for the challenge. You can see more at the flickr group http://www.flickr.com/groups/1401824@N21/ or wait for Kim to post the pieces at PersimonDreams.com. Starting Monday, you can even vote for your favorite piece!