So sad that this is the last challenge of Project Quilting Season 4. I had a busy week in store, including a trip to Minnesota, so I went for a smallish project, something I knew I could get finished in time for the deadline. I based my inspiration on this piece, which just sold from my etsy shop. (I was sad to see it go!) The challenge was simple, "Spring"!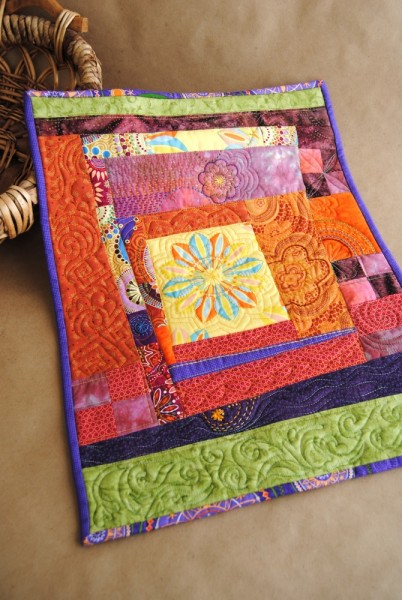 The inspiration was mainly the technique. I improvisationally pieced a little quilt to start. I had some leftover flying geese, which became a tree; loved those stylized trees in the center fabric; and just pulled out springy fabrics that coordinated until I thought it was a pleasant size and composition.
Then I quilted the piece, straight lines around the main blocks to hold everything in place; around the motifs in the focus fabrics; and a few swirls for movement and interest. Part of the challenge was to include appliqué, so the broderie perse (fussy cut) flowers were machine quilted on next. Finally, I hand embroidered some details throughout the week, until I thought I was out of time and then called it done and bound it. I was even working on it during the Modern Quilt Guild meeting slide show, in the dark! I have so much fun with these improv pieces, just adding details as they pop into my head!  Good thing my mom had the perfect binding fabric (thanks Mom!) because I was at her house in Minnesota when I finished this. Also good thing that my ipad takes such good photos, because I had forgotten my camera cord!  But that's part of the excitement of Project Quilting, one week is a short deadline and you do whatever you can do to get something done!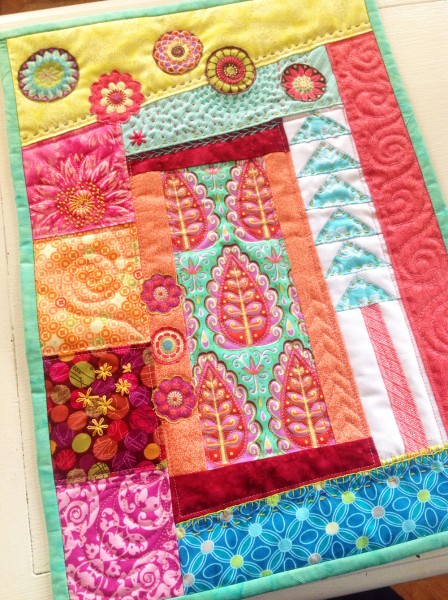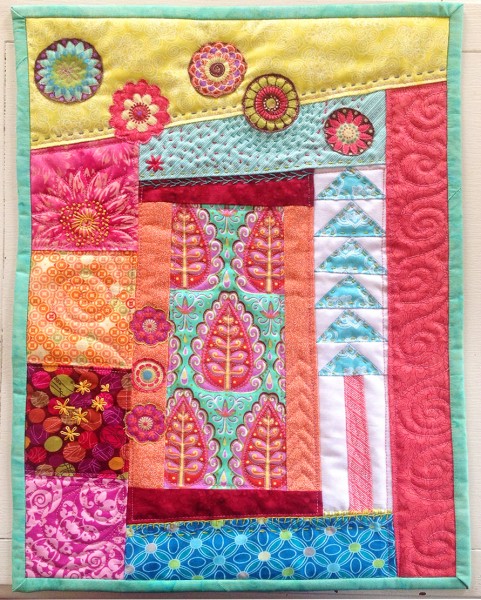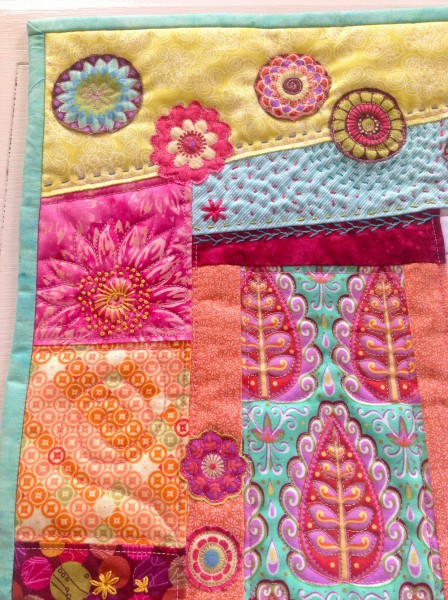 'Til next season! Now I'm going to have start giving myself my own challenges….and deadlines!
And Happy Spring! I hope its starting to feel warm and springy in your part of the world, it is here!
p.s. Don't forget you can visit the Flickr group to see the rest of the Project Quilting entries…http://www.flickr.com/groups/1401824@N21/ or visit PersimonDreams website to read more about Project Quilting