I finished my Project Quilting Challenge Quilt early this week!! It's not due 'til tomorrow! But there's not a single thing I want to change on it, so here it is…The challenge: take a printed magazine publication, turn to page 28 and make a quilt inspired by it. Cool! I chose National Geographic, my favorite magazine for pulling out fabulous photography. (My dad started me on my inability to throw away Nationals G's just in case I could cut out a good picture from one and make a collage or other art project!) Well, that impulse served me well in this case.
Here is the quilt I made: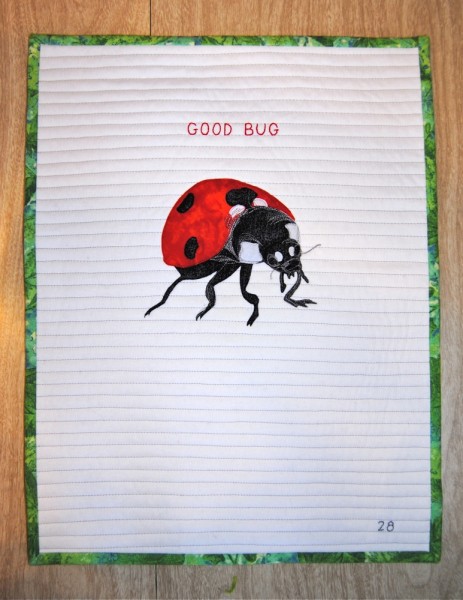 I didn't make an exact representation of the page, but I did make a lot of parallels to it. I loved the abundance of white space, so I used that. I also loved the black lines behind the bugs. That reminded me of writing and drawing in a gridded scientific notepad in college, so I continued gray lines going through the whole quilt…also serving to keep the quilting consistency even. Of course the bug is a dead-ringer for the middle ladybird beetle. It's a native 7 spot. The story is about the other two bugs actually, they are invasive species that pose as the natives and cannibalize the harmless species'. Yikes! I wasn't going to include those in this quilt!!! But I do love a little lady bug and remember my mom always saying that they are good bugs for your garden!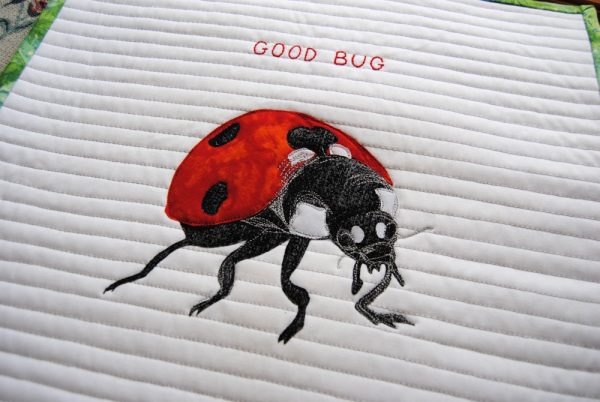 Hence the title of the piece, "Good Bug" and another parallel with the magazine page. Look at the little red text right in the center top, brilliant graphic design! I had to emphasize that. I embroidered it in simple block letters, just like on the page. To fit nicely with the Project Quilting challenge, I also included the page number on the bottom. That was my mom's idea! Brilliant! I included a little garden theme into the mix too with the binding. The green frames it nicely and adds another spark of color.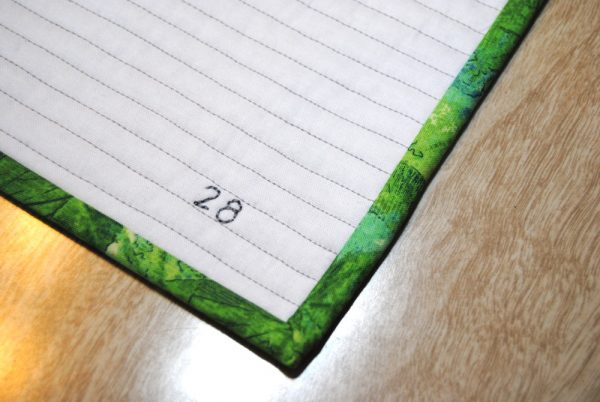 I know you can't really tell from the photos, but I did take the time to stuff the bug before quilting it. A little trapunto because I did the quilting lines first and didn't want the bug to have little depressions running through him. I love the effect in real life. My husband was a little disturbed by how real and big the bug looked when I first showed him, and I think the three-dimensionality had a little to do with that reaction! Now, though, he and my son are fighting over who will get this quilt! I think I'll have to keep it and hang it somewhere in our house for everyone to share. Pretty nice feeling, though, for everyone to want a piece that I made!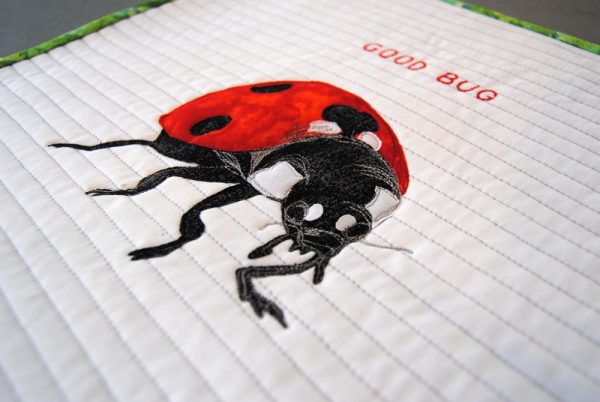 So glad to be back with another successful Project Quilting week! I still have to work on that star I started last challenge. I am excited about the potential there, I just didn't want to rush into finishing it when I knew if I took more time it would turn out a better finished project.
Happy Quilting!