mmmm PIE
For the Project Quilting Challenge theme of "Tools", I chose pie-making tools as my subject. Pies are a big deal in my family; my mom is an expert pie-maker. We all love to eat pies on holidays. I have been making them for years and I'm fine at it, but it's never quite as good as my mom's pie. This year for Christmas she gave me a few tools of the trade, so maybe someday my pies will come close to the quality of hers!
I also enjoy making pies because it seems like such an old-fashioned homemaker-thing to do, so I made this quilt a little old-fashioned too with hand-quilting and a little primitive style. Because of all the hand-stitching I planned to do (and to give it a more kitcheny heritage) the quilt sandwich is made with kitchen-towel woven cotton for the batting. That made it a breeze to stitch through, but gave it a nice quilt weight too.
This mini quilt is 16″ x 19″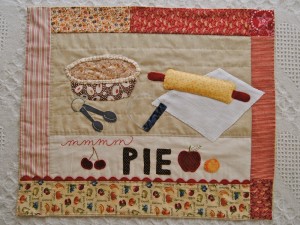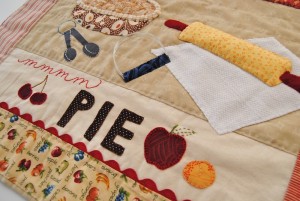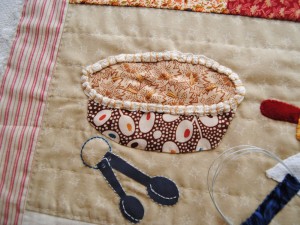 I gave it some three-dimensional details, such as the braid for the pie crust….I wish I could make pretty fluted crust edges like my mom can do!! The pastry blender has real wires. They are plastic-coated wires so they won't rust on my quilt! The rolling pin is stuffed to be slightly rounded. The rolling cloth is the same kitchen towel fabric that is inside the quilt. I hemmed it before sewing on the appliqué to make it look more like a kitchen cloth.
One of my favorite features is the bottom border fabric. It is a leftover from the first curtain I made from my very first kitchen!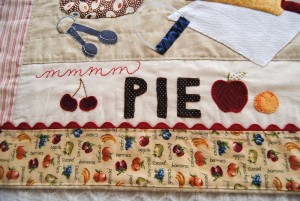 I hung it in my dining room recently because I had to wash my other cafe curtain. Look at that cute patchwork! It's so fun to see old fabric like that be put to another good use. I love my new PIE quilt!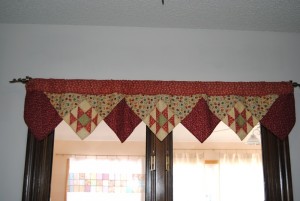 See the other Project Quilting entries at www.KimsCraftyApple.blogspot.com or The Project Quilting Flikr Group.
Oh, and I think you should see my mom, Ginny, the master pie-maker that inspired me to make this quilt. Here she is with her grandson. I'm pretty sure there was a pie in the oven when this photo was taken!