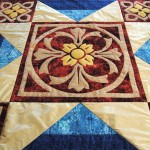 The first challenge of the season ended this Sunday, so here's how it turned out…
There were more entries than ever before! Click the collage image at the bottom of the post to be brought to the Flickr Gallery and see them all. The only real direction given was to be inspired by Architecture. So my inspiration came from architecture close to home…the tiles on the Iowa State Capitol floor. I thought they were beautiful when I visited the capitol a few years ago and took lots of photos, because I knew I wanted to make a quilt from them someday. This challenge was the perfect opportunity! I almost copied the design, using a photo as a reference and enlarging the pattern at a copy shop. But I changed the colors a bit, to include a shiny gold lamé, to symbolize our favorite part of the state capitol, the gold dome. My boys love "the Shiny Place" as they call the capitol and Brennan helped me pick out the shiniest fabric we could find at Joann. (We didn't consider what a pain in the butt it would be to use!)  The rest of the fabric had to come from my stash, but I seemed to have the perfect mix of marbley batiks and prints that had stonelike textures. The yellow even has metallic gold spots.
The Finished Size is 29″ square…don't ask me why I made it so big! I was asking myself that all week!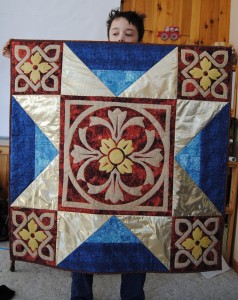 I didn't bother cropping out Conal's head and hands, because I wanted to give you an idea of how big I made it! I guess I just got too excited that I could get an enlargement at the copy shop and went crazy with it! But thankfully it was smaller than the width of fabric!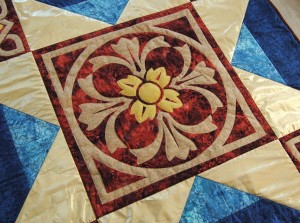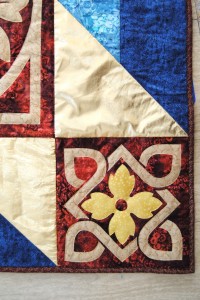 Here are some photos of my inspiration!