Here is the quilt that I made for my husband for Christmas this year. It's the coolest simple block that combines to make a modern snowflake-like impression. It was in American Patchwork & Quilting magazine in a very stylish red, green and gray color palette, but I fell in love with this fabric collection by Connecting Threads (Jenni Calo – Shimmering Frost) and I couldn't be happier with how it looks in this quilt!
This is maybe only the second time ever making a project with all one fabric line, but it sure made it simple to get started, so I may be trying it again sometime.
Here's a closer view of the block.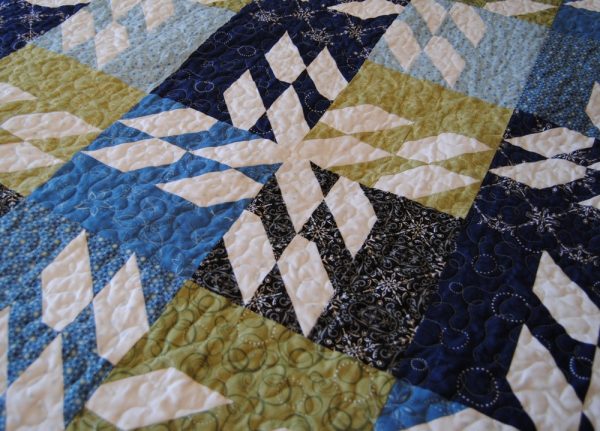 I did an allover loopidy loop quilting, a long figure 8 with little loops in the inner border and repeated the same allover quilting in the large border. I really didn't want to mess the up the fabric and block simplicity with quilting AND I wanted to get it done in time for Christmas and keep it soft for our bed.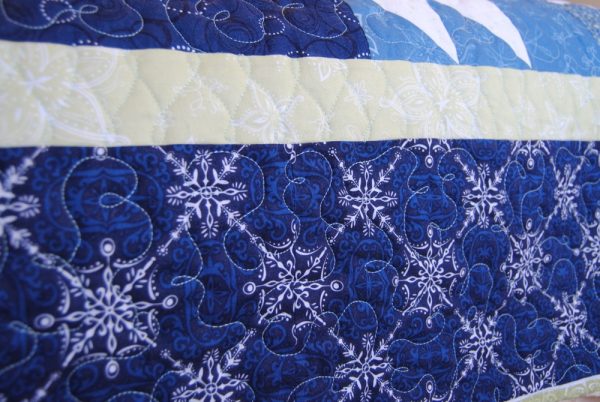 Here's a view of the binding. I did a faux-piping, machine-applied binding also so I could get it done for Christmas…because by the time I was at the binding stage, Dave was already home on Christmas break and getting a lot of hand-work done unnoticed was not going to happen! It's not show-quality perfect, but I like the white accent a lot. The backing peeking out there is just a perfect find, simple blue calico.
Oh, one more photo…here are the new Project Quilting pillows on the bed! I love making the bed now! (Yes, it makes me think I need a headboard, bedskirt and some tidier nightstands, but for now, our bedroom looks pretty good!)