I found a great tutorial to share with you! At "The Sometimes Crafter" Tutorial :: Fabric Scrap Basket
You may have seen it already, or something like it (the tutorial is dated 2009), but if you haven't tried it yet…you should!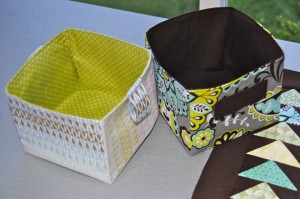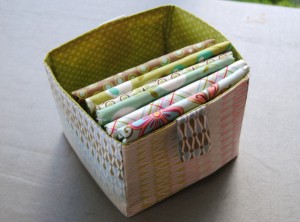 So, they're really fun to make. Quick, I made these two in one evening…and they're also fun to fill up!  I used the brown one for flying geese while making a project and they are the perfect size for little folded fat quarters! I even like the way Christina's look all full of little fabric scraps.
I also made some for a baby shower that ended up pretty cute. I hope they will be useful in the nursery! On those I tried top-stitching over the corners to keep them square. It worked pretty well. It was the mommy, Dawn's, idea, so I'm glad it did. But you have to go slow and careful if you have a machine that hates lots of layers. I was nervous the whole time, but it worked out ok.
Oh, you may notice the two kinds of handles. I experimented because I thought they needed a little more detail. The first ones I sandwiched into the top seam, then top-stitched them down over the sides. The second time, I did a straight across handle that I sewed onto the sides before any assembly. I think those ones look more like those store-bought storage boxes. But neither style is very functional, so I guess they're only there for looks.
Tutorial Bonus!!
If you'd like to make these in another size, here's a good way to figure out what size to make.
1. Choose a side size. These are 5″ unfinished. I tried a 4″ side that worked well.
2. Cut your largest square 3 times your unfinished side size. Therefore 15″ square for the tutorial size, 12″ square for my smaller box.
3. Subract 1/2″ from the side size. Cut that size square out of each corner. Example 4.5″ was the square cutout from the tutorial size. I cut out a 3.5″ square.
Works! Go ahead experiment!