Hi Friends! Did you miss me? It's been a long time since I posted anything on this blog, so I hope I haven't lost you, my dear readers, but I just didn't feel like blogging and didn't see the point of making myself blog. Now I'm starting to feel like it again, so I'm going to see how long that lasts. Project Quilting just started up again and I was just sewing with my small group and we had big plans for challenges for the year to come, so hopefully I'll find plenty to write about!
But really, I never have a lack of sewing projects to write about!! I mean come on!
I'd like to start getting back into things by telling you about the awesome Christmas I just had; full of homemade/handsewn gifts. I found lots of inspiring projects in books and magazines and online tutorials that I'd like to share with you!
My favorite Christmas gifts to make are always the stuffed toys. This year I used up three bags of stuffing making those! My oldest got a monster from "Soft Toys to Sew" by Sheila McGraw. It's an older book I've had for a few years and this is the second monster I've made.

One of my favorite newer toy books is called "Sewn Toy Tales" by Melly & Me. I made two caterpillars out of that book. The designs are brilliant, the instructions work just perfectly and they turned out extremely cute and fun to play with. You wouldn't believe how much fun these caterpillars are to hold, the way they wiggle in your hands is just irresistible. I highly recommend this book if you'd like to make some stuffed toys.
Here's the best photo I have so far, it's Brennan with all his new and loved stuffed toys Christmas morning…the caterpillar is in there somewhere!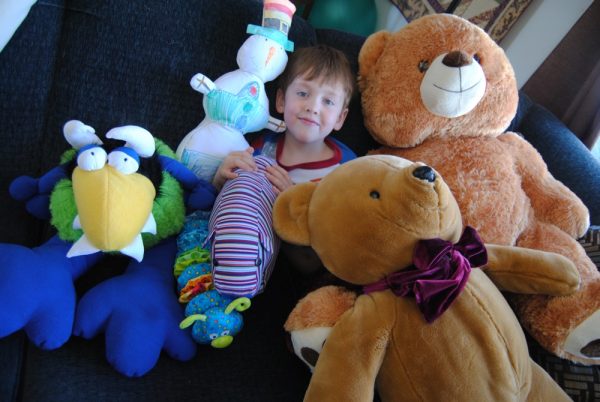 I'm still loving my Hilary Lang book, "Wee Wonderfuls: 24 Dolls to Sew and Love," and made a "Tag-a-long Doll." She's a cute, simple little doll with an apron to ride on. Everything about her pattern worked out perfectly! This is another excellent toy book, more doll-heavy than the Melly & Me book, which has more stuffed animal toys.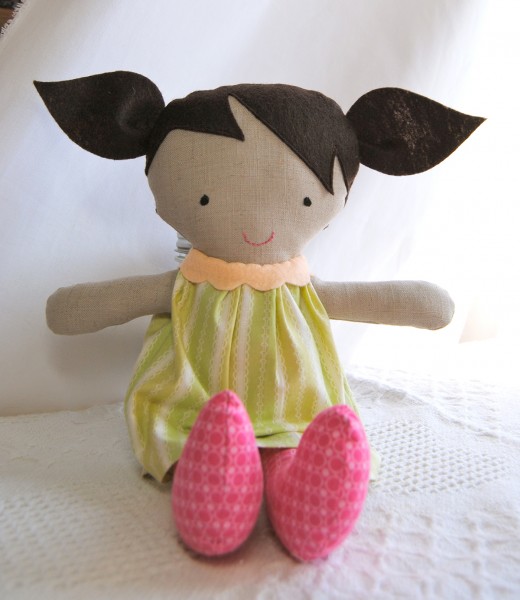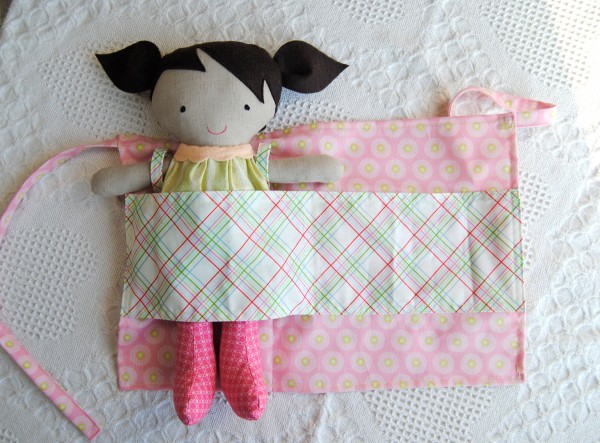 For my Mom and a woman I work with, I made some nice purses. These were from a purchased pattern called "BB Bags" by Brookshier Design Studio and I know I am sounding repetitively gushy here, but this pattern is really well done as well. The instructions are really easy to follow. The pattern includes a quick one-page recap of the construction, which I found perfect for the second time through the process. It includes really helpful layout instructions for cutting the fabrics to end up with the motifs laying in the way you want them on the finished piece, something that could be really tricky with the number of pockets and pieces involved.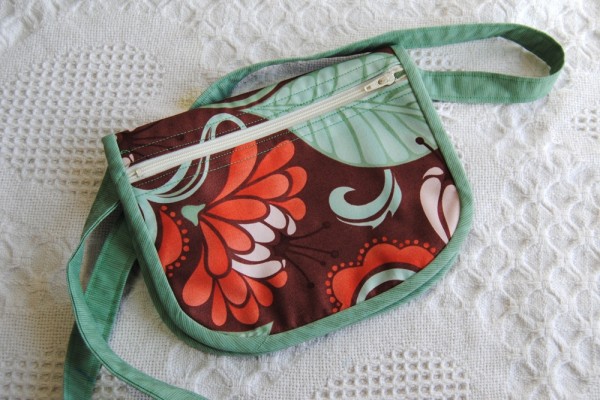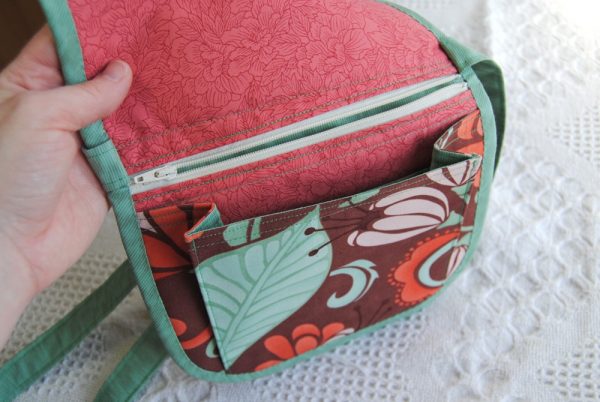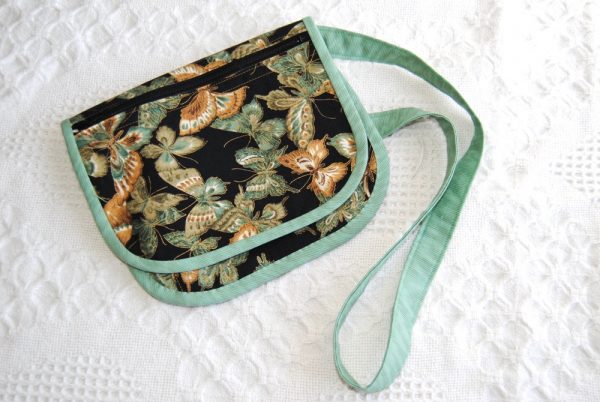 From the Book by Amy Butler, "In Stitches", I made a bedside pocket set for my dad. I was not as thrilled with this pattern. It was pretty tricky and didn't seem like the most efficient methods of construction…but was too complex for me to figure out an easier way. The finished result was brilliant though, and my dad loved it and thinks it will be super handy, so that was the important thing.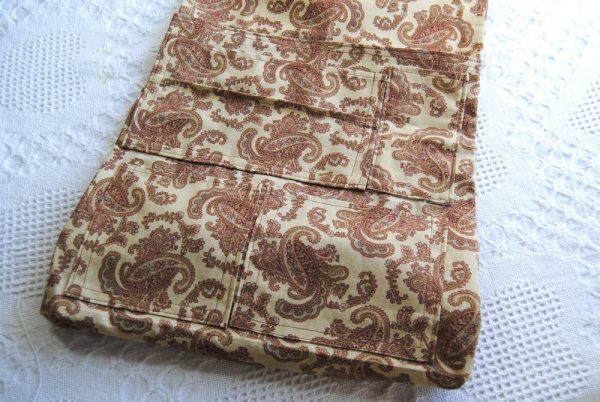 The photo shows above one of the pockets. The thing was two of these pockets connected by a long chunk of fabric that would be draped over the bed between the box spring and mattress and hang down to the floor as storage for all those little bedside necessities that you don't want cluttering up a nightstand.
My mother-in-law was the only lucky recipient of an actual quilt this year! And it was a super simple design that I've made before and simply love, by the two women at "DIY Dish"  I used a flannel backing fabric of beautiful brown with butterflies on it that I had been hanging onto for a while. It was hard to give up, but the color scheme made for a perfect inspiration, I think, so I'm glad I did! The fun part of this quilt is that you lay out the squares on a big solid background fabric, glue them on temporarily with a glue stick, then sandwich and quilt right away. With just straight quilting lines in a grid, all the squares are secured on and the quilt is ready to be bound! I washed it first, so the raw edges started fraying a little, clipped off a few threads, and now it has a nice homey, rumpled feel to it.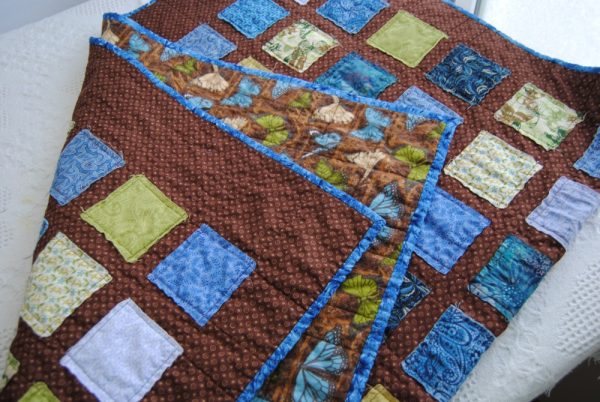 From 101 Patchwork Projects (the magazine I had a pattern in), I made a set of wall pockets for my niece. I used a rainbow of colors for the background, which makes it really stunning and doesn't have to "match" her room, it will just be fun wherever she hangs it! I started another one for Brennan, but shhhh, it's not done yet, so don't tell him that!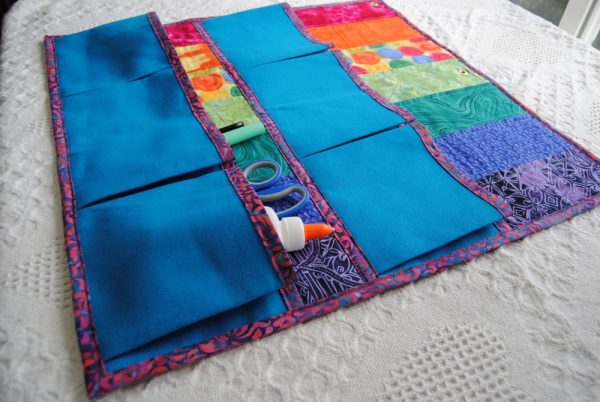 For the kids' teachers, I made a few more houses from the tutorial on Sew Mama Sew that I used last year. These are super fun to make, and can have many different looks depending on the fabrics you choose. The ones I made this year don't look anything like last years'!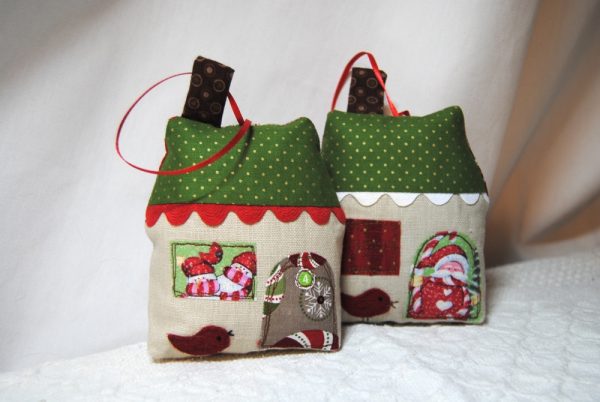 Ok, this next photo is just because I'm super proud of my creative husband! Look at the gorgeous wood candy cane he made! He made nearly thirty of these ornaments to give to his family, friends and colleagues! I treasure the one he let me keep!
That's all for now, folks. But I hope to keep in touch much better in the coming weeks. And I hope some of you will join me for Project Quilting Season 4. Have a great week!
– Emma