I made a project a while back that I should show you! It's super cute, not as useful as I hoped, but super cute!
It's a Cat Tent!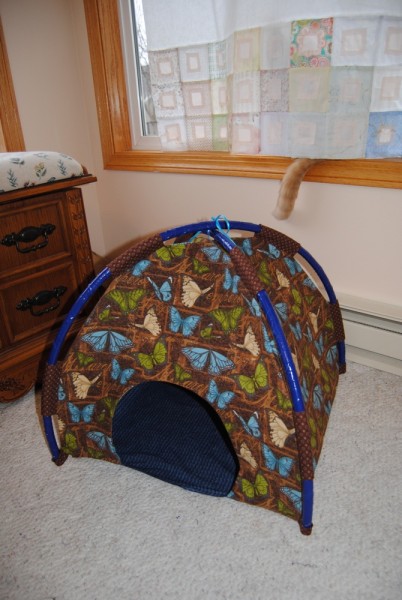 Yes, that's the kittie's tail ABOVE the tent. She's more interested in looking out the window than hiding in a tent. Actually, this was for my other kitty, to keep her out from under my bed causing nighttime allergies for me. BUT she is a very stubborn cat and hasn't figured out that the tent is good for her.
Brennan may get it for his stuffed toys.
In case you're wondering, I got the pattern from Sew, Mama, Sew. HERE Actually, all the instructions are from that tutorial, but I drew my own pattern to a good size for a cat. I used the size fabric I had and the size of a pillow I planned to put inside and just sketched to match the proportions of her little tent. I knew hers would be too small for a cat, it was meant for play…for stuffed toys and dolls. They were great instructions, I followed them almost to a tee. I did substitute plastic piping for the faucet connector poles though, since it was so much cheaper, but felt just as good. My poles are perfect! I have a lot of leftover pipe too, so if you live nearby and want to make one, just let me know!