The title of this quilt is "Buttonwillow, CA" because the challenge was to choose the name of location as the inspiration for a quilt. I just scanned Google maps for a few minutes and found Buttonwillow, CA. The challenge was not to know anything about the place itself, just the name….
Anyway, here's my piece and the description I submitted for Project Quilting Round 2:2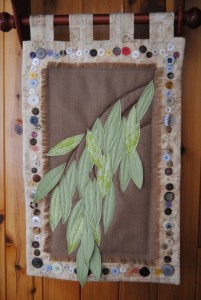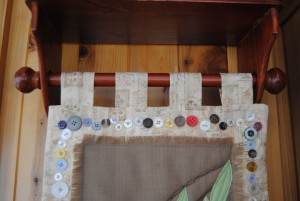 "Buttonwillow, CA; what a great name! My husband thought it might be cheating that the name sounded so much like a quilt, but I thought it was too good to pass up! And maybe not everyone has a favorite tree, but I definitely do and it's a Weeping Willow! I love the way the leaves drape so elegantly. This quilt is tall and slender at 12″ x 18″ plus 2" tabs. The backing fabric is a tan cotton print with sketchy architectural details that reminded me of things we saw while visiting southern California (Santa Barbara, San Louis Obispo and more), so I thought it was fitting for this piece to give it a little California flair. It is also a good backdrop for the nice light brown linen and the variety of buttons. I started with all tan buttons, but opted for a wider variety and I really like the sparkle of color in the border. It keeps your eye moving around the piece.
Also be sure to notice the 3-dimensional willow leaves along the bottom and edges of the branch. It adds to the layering effect of a real willow branch and bridges the border and center for a united piece.
Made in Urbandale, IA by Emma Thomas-McGinnis"
Other notes about the process…
I made the 3-dimensional leaves with 2 layers of green fused together. First I made them, cut them out and then tried to quilt the lines in the little buggers, but they kept sucking into the sewing machine. So then I made the fused sandwich again and did the quilting lines before cutting them out. That worked much better!  I was also sort of hesitant to layer the leaves so much, each leaf was so pretty on its own. But then I wanted it to look more realistic and give it more depth, so I covered up some of the best leaves and wow, it was much better for it!
I usually like things pretty scrappy, with lots of different fabrics involved…but do you notice, there are only two fabrics in those leaves! I started with about 6 greens, but it really just messed it up. I like the extra little bright green ones for sparkle, but the solid green was really perfect. I didn't want the viewer to start looking at all the fabrics, I really just wanted the elegant leaves to be just leaves. That's also why I didn't add a whole bunch of leaf viens. I wanted to keep the simple shapes. In photos of willow branches you don't really see the veins, the leaves are shiny and simple.
That's all, hope you like it, I really loved making this little quilt!