I may just be a little nuts, but I just found another thing in my home that needed a quilt…my George Foreman Grill! I have been eating grilled sandwiches almost every day for lunch and trying to wedge it back into a high corner of my cupboard after every meal…usually causing a crash down of a few spices in the process. So I decided to keep the thing on my counter. But its just not pretty enough for that.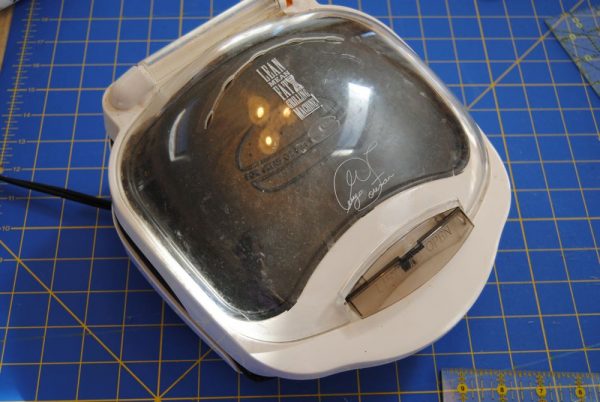 See what I mean!
So I measured the thing and made up a quilted cover for it to match my kitchen and potholders. Want to know how I did it?
First I took measurements and made a sketch. It slants a little to the front, so I made the cover do that too. And to make sure I always know which way to put the cover on, I decided to patchwork the front.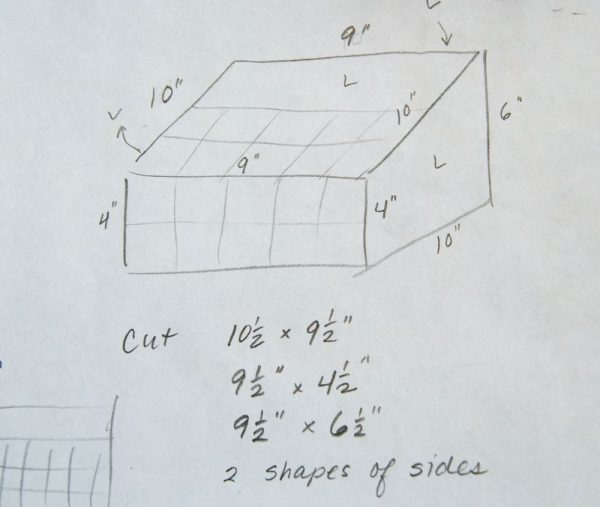 Actually, I just really like the patchworky look, so I added two patchwork panels. The sides were close enough to 10″ wide, that I did a 2″ square patchwork in two rows of 5. Then added linen to the top and bottom of one of the patchwork panels to make the top.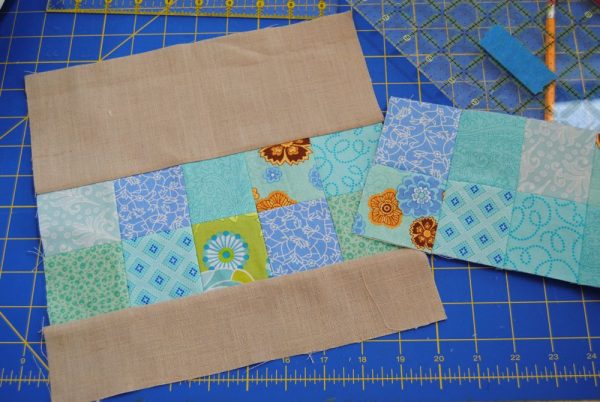 I quilted those patchwork panels, using fusible fleece underneath, just to give them a little dimension and texture.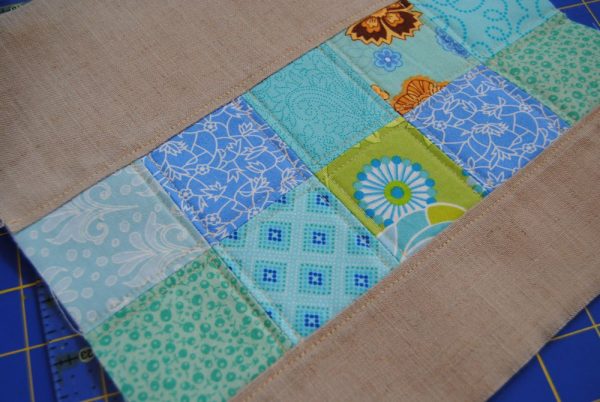 Next I cut out the rest of the pieces. Two sides out of linen and two sides out of cotton for the lining (reversing one!), one front out of cotton lining, and one back out of each cotton and linen.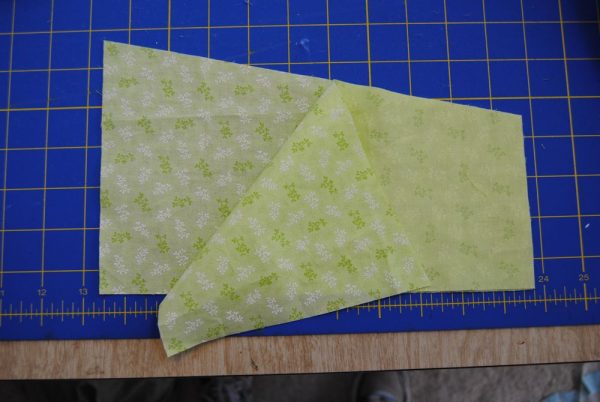 I assembled the lining like a box. First, loosely pin it all together to make sure the pieces are lined up in the right place.  Then sew up one side seam, stop at 1/4″ from the corner, pivot and realign the pieces, sew the next seam to 1/4″, stop, pivot and continue until you've sewn up the box. Do the same for the outsides.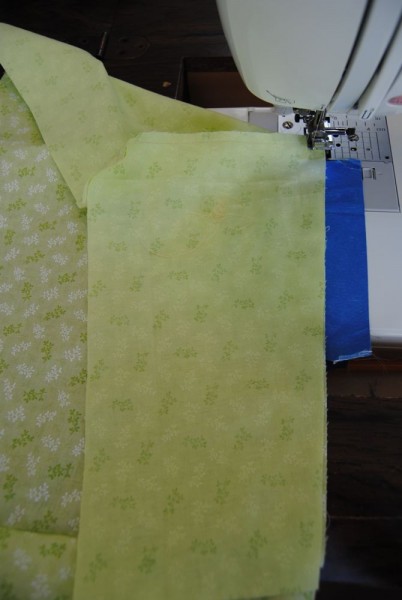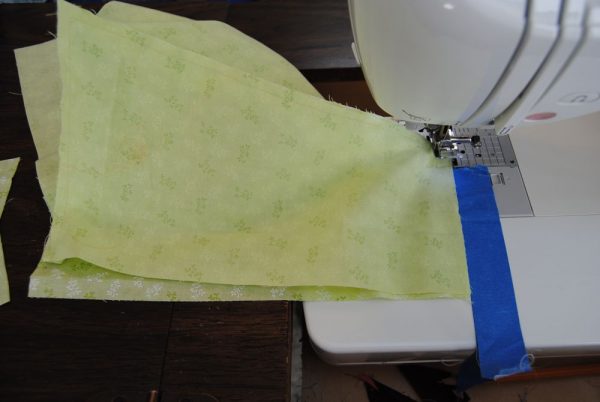 Next, nestle the lining and outside together, wrong sides facing each other. Push the inside corners smooth against each other. If the raw edges aren't perfectly aligned, trim them. It's more important for the lining to fit smoothly inside. You should also test the length out on your grill at this time. It will look the nicest if the length is just perfect…the cover hanging loosely with the binding just hitting the counter surface.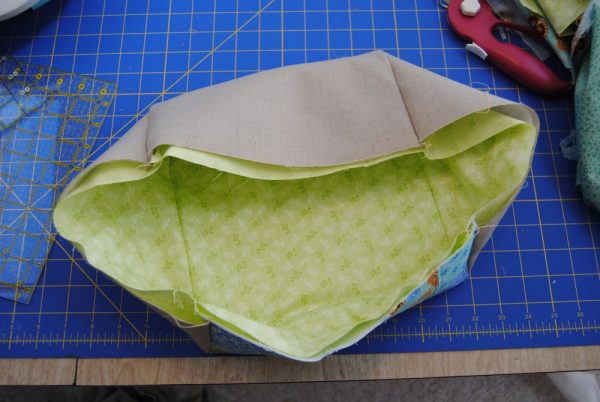 Pin and then baste the raw edges together.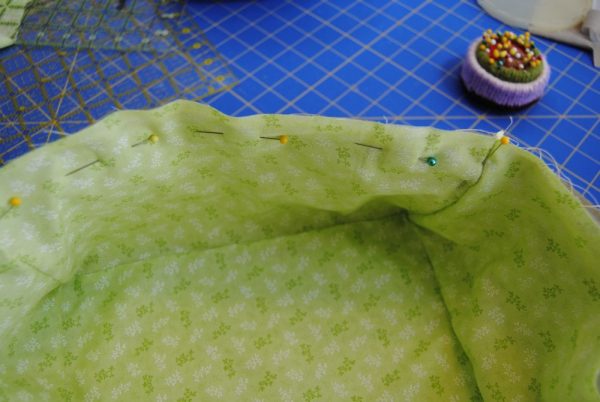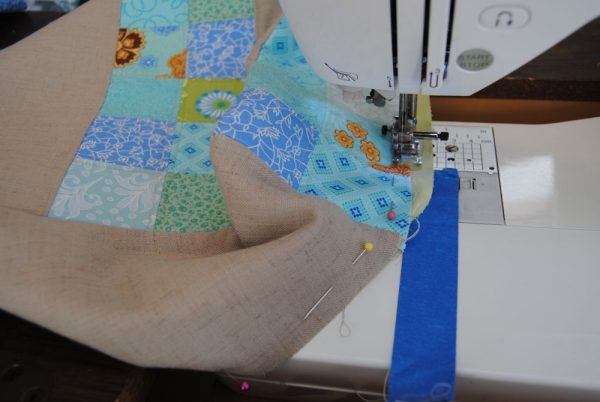 Sew binding to the bottom raw edges then, just as you would a quilt. I used a cute stripe on the bias.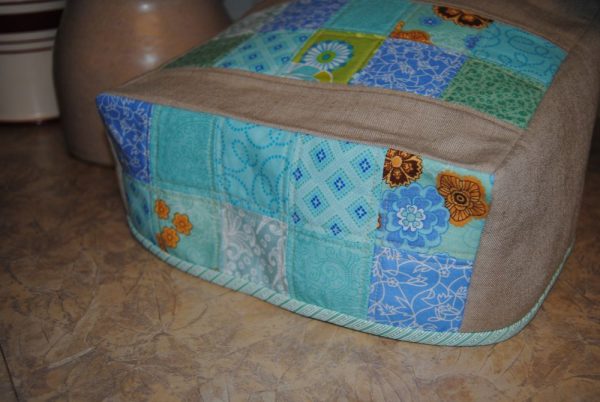 And here is my one little corner of my kitchen that looks cute AND is oh so practical! (ignoring the ages old coffee maker!)